(The following bio was deceptively written by me in the third person, in case anyone has use for such a thing.)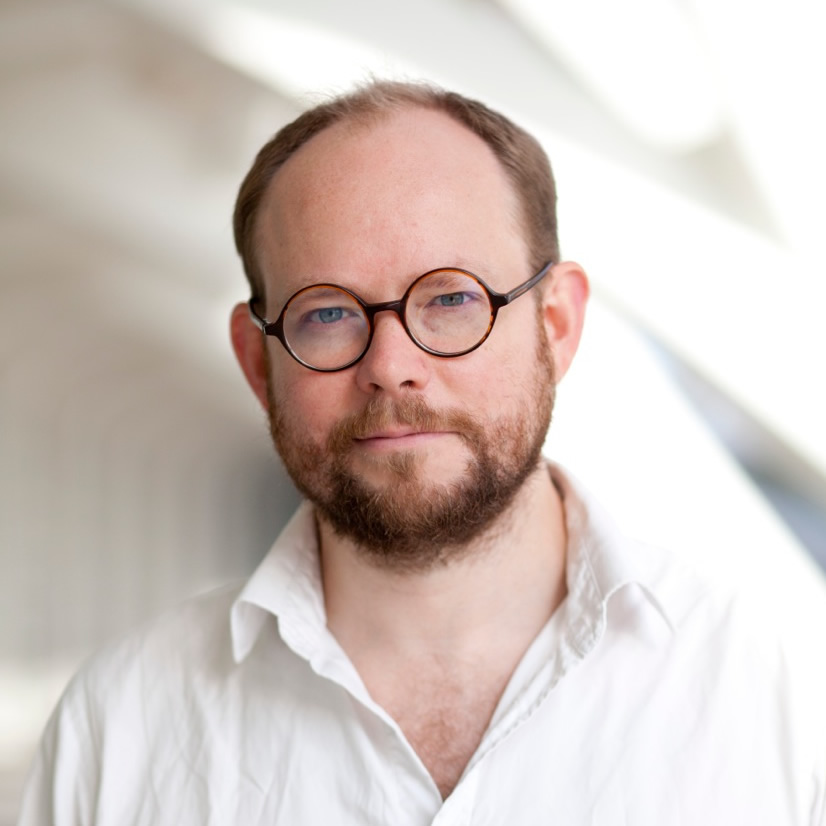 Ben Houge (rhymes with "vogue") is an internationally active American artist operating at the nexus of music composition, video games, performance, sound installation, and digital art. Since relocating from Shanghai to the Boston area in 2010, his projects have included an asparagus opera, a six-channel sound installation based on live subway sounds, algorithmic choral music, and a real-time video piece visualizing data from the Boston Harbor Islands. Recent work has been presented in collaboration with groups such as Boston Cyberarts, the ILLUMINUS Festival, Non-event, Studio Z in Saint Paul, Chapel Performance Space in Seattle, and the San Diego Museum of Art. In 2012, he was a visiting artist at MIT, working with the Media Lab's Responsive Environments group on the sonification of real-time data from ubiquitous sensor networks.
In the summer of 2013, Ben relocated to Valencia, Spain, to help develop and teach in the new Music Production, Technology, and Innovation master's program at Berklee College of Music's new campus in Valencia. In the fall of 2015, he returned to Boston and now teaches in Berklee's Electronic Production and Design department.
Ben has been developing audio for video games since 1996, and challenges posed by this inherently indeterminate medium have provided constant fodder for his work in and out of the industry. In seven years at Sierra On-Line, he contributed to titles including King's Quest: Mask of Eternity, Leisure Suit Larry 7: Love for Sail!, several Half-Life games, and Arcanum: Of Steamworks & Magick Obscura, for which he composed a string quartet soundtrack performed by members of the Seattle Symphony, praised by the Seattle Times as, "sophisticated enough to pass muster on its own as an extended string quartet," and recently ranked in Forbes as one of the 12 best video game soundtracks of all time. In 2004 he moved to Shanghai to take a job with French developer Ubisoft, and most of his four years at the company were spent heading up audio for Tom Clancy's EndWar (the "fantastic audio" of which "puts you in the thick of the action," according to GameSpot), for which he devised an innovative, cell-based music deployment system. Since leaving Ubisoft at the end of 2008, he has continued to consult on game audio for companies including Hidden Path Entertainment, Red Rocket Games, and Harmonix Music Systems.
From 2004 to 2010, Ben lived in Shanghai, China, where he was an active participant in the sound and art scenes, performing alongside artists including Yan Jun 颜峻, Torturing Nurse, Li Jianhong 李剑鸿, Yao Dajuin 姚大钧, and Wang Changcun 王长存, as well as visiting artists like Elliott Sharp, Nosaj Thing, Safety Scissors, and Owl City. He has presented his work at the Shanghai eArts Festival, the 2pi Festival in Hangzhou, the Mini MIDI Festival, Beijing's Today Art Museum, Suzhou's True Color Museum, the Zendai Museum of Modern Art, OV Gallery in Shanghai, Art+Shanghai Gallery, Dorkbot Shanghai, XinCheJian 新车间, D-22, XP, Yu Yin Tang 育音堂, Brainwave Communication, RESO, and Noishanghai. For two years he served as a contributing music editor for That's Shanghai magazine, writing articles and conducting interviews with artists including Tan Dun 谭盾, Kronos Quartet, Wu Man 吴蛮, Linkin Park, and Uzodinma Iweala.
Prior to moving to China, Ben lived in Seattle, where he founded the Sound Currents concert series and was a member of Stranger Genius Award-winning composer collective Seattle School from its inception. He was active in the Seattle Composers Alliance, serving on the board and as vice president, and in the Washington Composers Forum. For a time, Ben co-fronted the quirky spazz-pop ensemble Subpoenaed Lemur. Ben's work in Seattle benefitted from two Meet the Composer grants.
While living in Seattle, Ben sang with the adventuresome choral ensemble Esoterics, and for five years was composer-in-residence at Holy Trinity Lutheran Church on Mercer Island, where he developed a significant body of music for choral and ecclesiastical use, some of which has been published by Augsburg Fortress. He has composed music for the Minnesota Compline Choir, the Northwest Girlchoir, and the Esoterics, and twice has been commissioned by the Evangelical Lutheran Church in America. The first performance of his setting of Yang Haisong 杨海松's poem "Lao Zhang 老张" was conducted by Dale Warland at the 2012 Chorus America Conference in Minneapolis, as part of the American Composers Forum's ChoralConnections program.
Ben holds degrees in music composition from St. Olaf College, where he studied with Peter Hamlin, and the University of Washington, where he studied composition with Juan Pampin and Richard Karpen and digital art with Bret Battey. He grew up in the American Midwest, in Southern California, and in the West African countries of Liberia and Ivory Coast, and to date he has spent about one third of his life abroad. His younger brother Nate Houge is a musician, baker, and co-proprietor of the acclaimed Brake Bread bakery and bicycle-powered bread delivery service in St. Paul, MN.