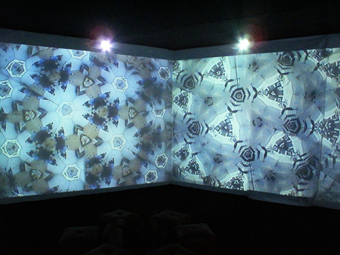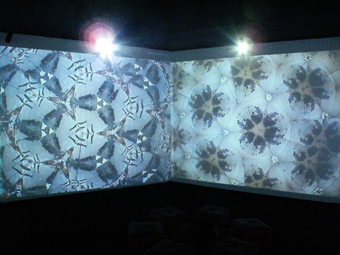 Kaleidoscope Music 万花筒音乐 is a 2 or 6 channel real-time, electronic composition that originally served as the audio component of the audiovisual installation Kaleidoscope Wallpaper, developed in collaboration with my friend the Shanghai-based artist Chen Hangfeng 陈航峰. It was first exhibited as part of the Fat Art 09: Music to My Eyes exhibition at Today Art Museum, Beijing, April 17-May 3, 2009, earning a positive review in Time Out and a critic's pick in Artforum.
The idea of a kaleidoscope, a device that allows us to see our everyday surroundings in unexpected and beautiful ways, served as the point of departure. For the visual aspect of the installation, Hangfeng fitted his handmade kaleidoscopes to two closed circuit security cameras positioned around the gallery. The signals from these cameras were projected onto the walls of a custom-built, hexagonal room inside the gallery (each signal projected three times).
Implementing a kaleidoscope in sound was less straightforward. Next to each camera I positioned a microphone, and the signals were fed into a computer running a Max/MSP patch I developed. The signals were mixed and delayed algorithmically, then sent through a bank of 30 narrow bandpass filters, whose frequencies and amplitudes were manipulated in real-time according to a quasi-fractal pitch hierarchy I devised, while moving through a set of shuffling rhythmic behaviors. For a thorough breakdown of how the piece works, check out my blog.
Of course a sonic kaleidoscope can only be suggestive of the original thing, and there are any number of possible approaches, but I think this implementation succeeds in fragmenting and reshuffling the aural environment into interesting juxtapositions, allowing us to hear familiar surroundings in surprising and, I hope, delightful new ways.
I've also performed Kaleidoscope Music in a laptop performance setting at several venues in western China. Listen to an MP3 example from a show I did at Yu Yin Tang in Shanghai, March 15, 2009. The source signal was from a microphone that I set up in the park behind the club, catching a lot of traffic noise from the Yan An Lu elevated road.
Or if you prefer, here's another recording of a performance of a slightly updated version of the piece from Opensound in Somerville, MA, on Feb. 12, 2011.