[Note: this article was originally drafted on July 23, 2015.]
After teaching at Berklee College of Music's campus in sunny Valencia, Spain, for the past two years, I'm gearing up to head back to the US this fall, where I'll be returning to my prior post at Berklee's Boston campus (although I'm switching departments, from Film Scoring to Electronic Production and Design). Since graduating our latest class of master's students last week, I've been spending time archiving some of my projects from the past two years. One of the quirkier among these is my Three Studies for Disklavier and Mechanical Chihuahua from early 2014.
I composed these super short pieces (about twenty seconds altogether) at the invitation of my friend the mad genius Ranjit Bhatnagar (we had the pleasure of bringing him over to Valencia as a visiting artist in the fall of 2013). He issued an open call for compositions that he could use as part of his installation Short Ride in a Fast Chihuahua, which was presented at the Qubit Machine Music festival, February 12-14, 2014, in New York City. The constraints were extreme: he needed compositions of exactly 26 regular beats at a tempo of 320 bpm, so that each beat could be triggered by a yip from his mechanical Chihuahua (detected via microphone). That comes out to just over six seconds, if you add some time for the resonance of the instrument. A composer was free to place as many notes of varying velocities on each beat as desired.
A Disklavier, as you may know, is a fully functional acoustic Yamaha grand piano that can also be controlled remotely, whether via real-time signals or a pre-recorded file (using the MIDI protocol). It's like a fancy player piano. I suppose the first thing that occurs to most composers writing for this instrument is to seize the chance to devise something that would be impossible for a human performer to execute, perhaps along the lines of Conlon Nancarrow's masterful player piano studies from the 50's and 60's or the more recent black MIDI phenomenon.
Given Ranjit's constraints, a sophisticated rhythmic study of the type that Nancarrow frequently undertook was impossible, but harmony was wide open. So I thought it would be interesting to explore the relationship between harmony and timbre (which can kind of be thought of as the same thing) and see if I could perform a kind of additive synthesis on an acoustic piano.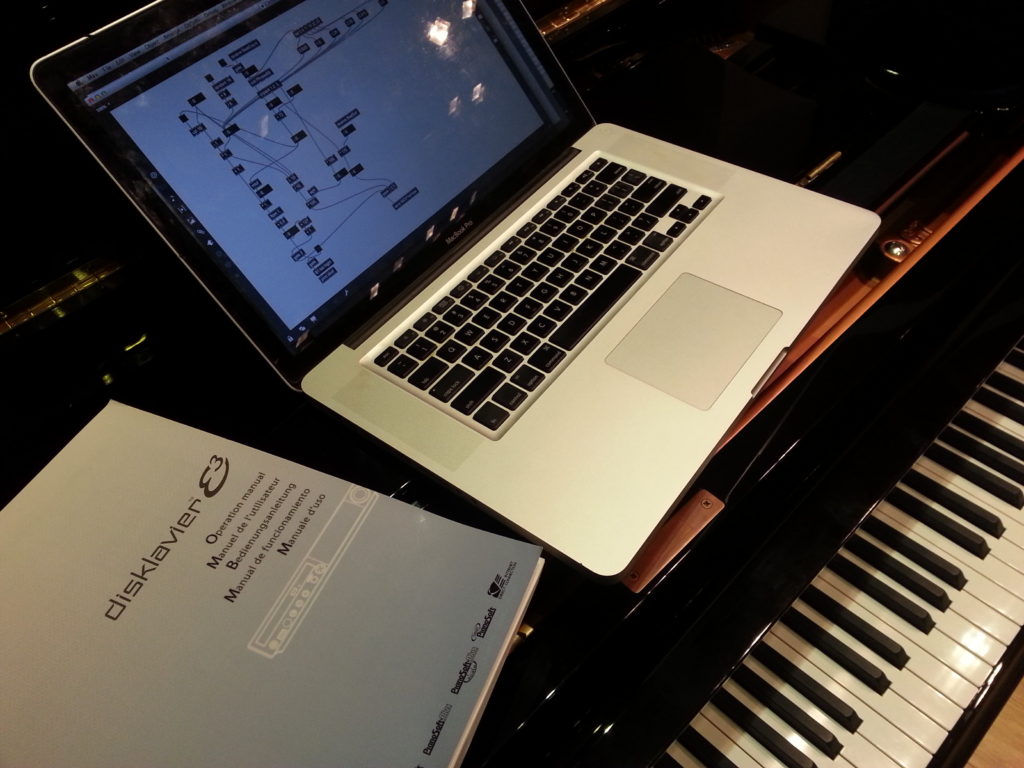 This was the process for composing my first and third studies. First, I wrote a simple contrapuntal passage in two (first study) or three (third study) voices. Then I wrote a Max patch that, based on each note I composed, calculated a bunch of additional notes ascending from the original note, to be played at the same time, decreasing in volume as pitch increases. I believe I used a couple of different formulas, but all based on the way the harmonic series works (i.e., fundamental frequency multiplied by a regular sequence of numbers starting with 1). Since each "partial" generated in this way is not a simple sine wave, but another piano tone with its own rich timbre, the music gets dense in a hurry, but there's a hard upper limit—the piano's high C8—that keeps things from getting too crazy. There's also necessarily a lot of rounding off of pitches going on, so that they land on a pitch the piano can play, with the result that on the upper end of the piano, most of the keys are being played, although, crucially, at different velocities.
So the result is that, for each of the fifty or so notes I originally composed, my program spit out around seven hundred notes for the piano to play for each of my six-second, twenty-six beat compositions. My original compositions were actually quite simple and modal, avoiding big leaps in pitch, in an effort to help all of the different pitches perceptually fuse into one complex timbre as they move around in parallel. (I may have been thinking a bit of the first of Stravinsky's Three Pieces for String Quartet.)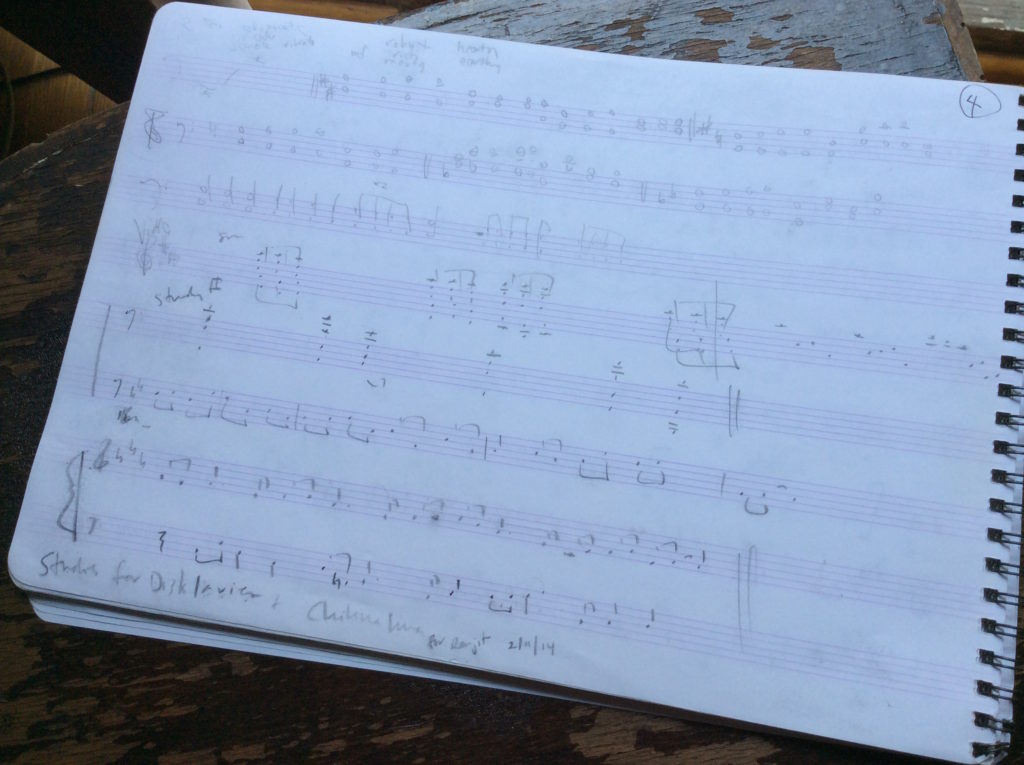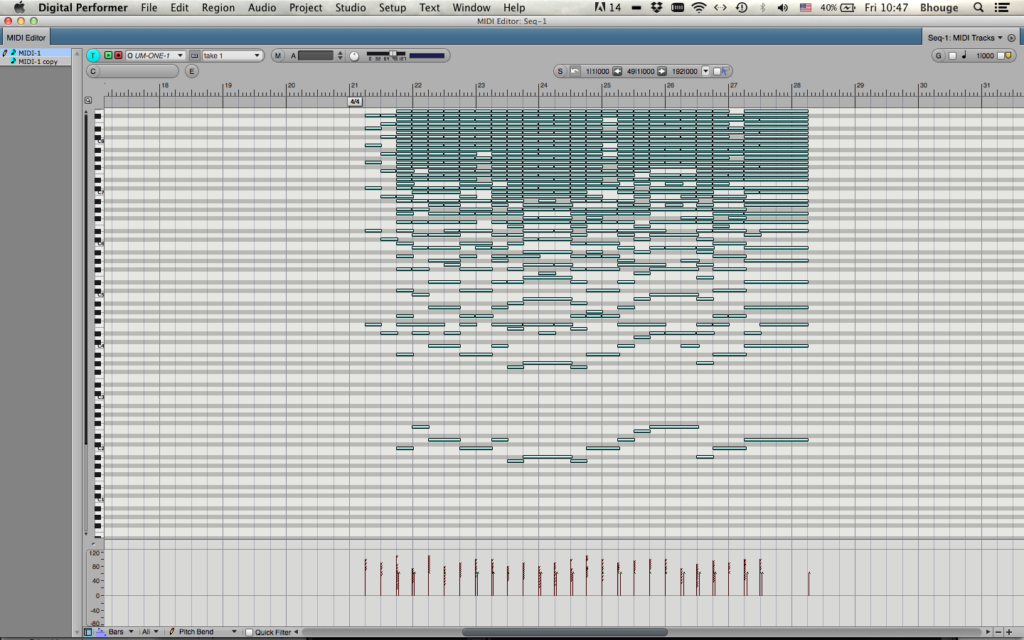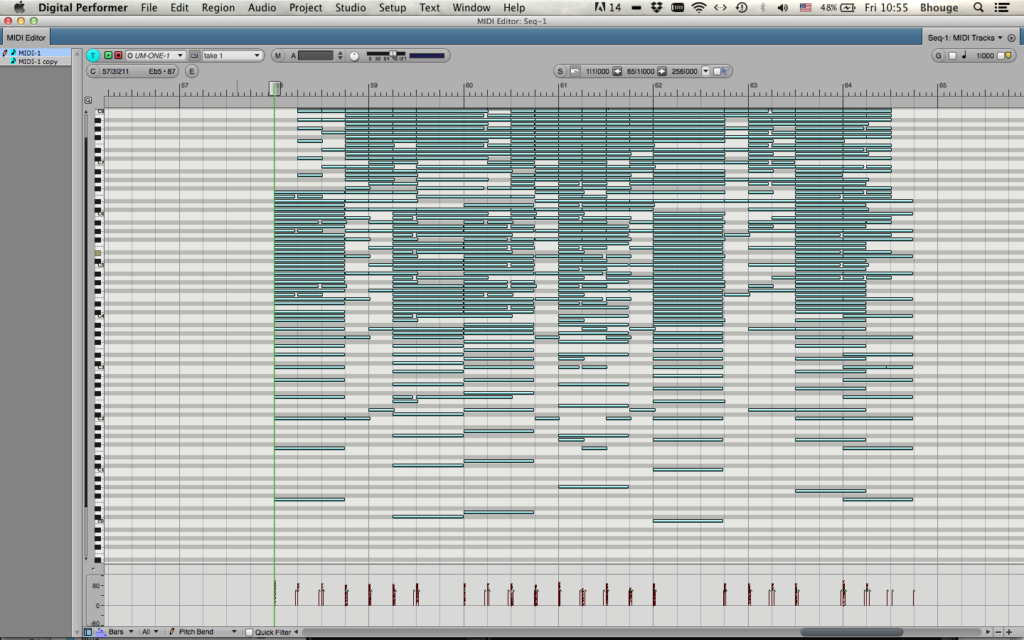 And I was perhaps even a bit surprised to hear that it actually works! If you focus on, for example, the middle voice of the third study, which starts on the fourth beat with a diatonic run from C below middle C up to F, it doesn't sound like a normal piano sound, but something brighter, almost more like a Rhodes. The same is true, maybe a bit less pronounced, in the bass part of the first study.
To hear the difference, compare with the second study. This one was composed the old fashioned way; I wrote the parts out on paper and just wanted to see what I could do by employing the whole range of the piano at once, so maybe this one's a bit closer to a Nancarrow piece. Here, the timbre of the piano is untransformed; it still sounds like a regular piano, albeit a very busy one.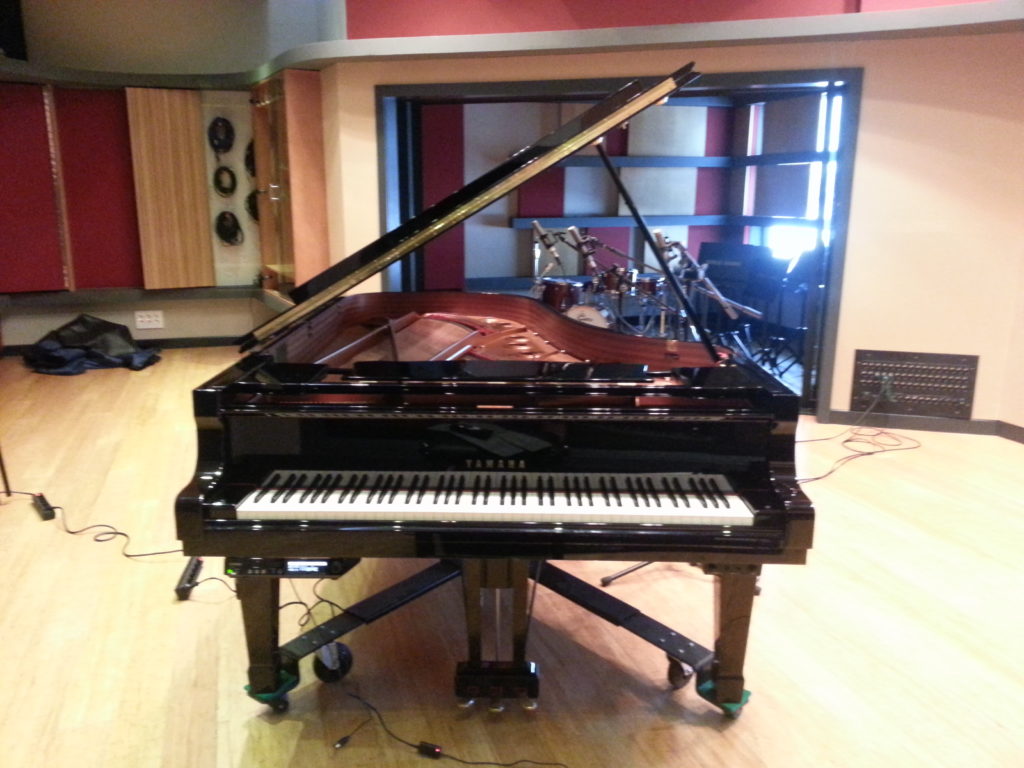 Berklee staff engineer and assistant professor and all around friendly and quite capable guy Chris Wainright was the engineer; as I recall, his description of this music was that it evoked an ice cream truck being pushed off a cliff. We used a pair of Royer 121 ribbon mics (if you see photos of the session, there's a third mic set up, but we only used two for this recording) and recorded on Berklee Valencia's Ann Kreis Scoring Stage into an Avid System 5 mixer. Ostensibly, this session arose out of Chris' desire to test a faulty ribbon mic, although I'm not sure how ideally my music ultimately suited this purpose. We didn't use any reverb or EQ or any other post-processing; I thought these recordings were dense enough as they were.
Of course the idea of using a piano to synthesize new timbres has been explored before. I would perhaps be remiss not to mention the work of the Austrian composer Peter Ablinger who got a lot of attention for his piece "DEUS CANTANDO," which presents the arresting phenomenon of a speaking piano, in 2009. His custom mechanical piano, designed by Winfried Ritsch, appears to have much greater resolution than a Disklavier (each note can be pulsed up to 16 times per second), allowing him to recreate the sound of a child's voice reading "the text of the 2009 Declaration of the International Environmental Criminal Court that was founded at the World Venice Forum pursuant to an initiative of Adolfo Pérez Esquivel and the Dalai Lama" (all of this according to this Ars Electronica citation).
Thanks so much to Ranjit for the invitation to do this wacky thing! I invite you all to check out his fantastic work (maybe start with his brilliant Twitter bot Pentametron, which retweets, in rhymed pairs, tweets that happen to be in iambic pentameter).