I just got back about three weeks ago from a wonderful, inspiring, and very successful visit to San Diego.  I was in town at the invitation of the San Diego Museum of Art to premiere my new piece Mobile 4 at the museum's Summer Salon Series.  While I was in the neighborhood, I also had the opportunity to sample some of the energy and diversity of the city's eclectic arts community.  And I learned what a California Burrito is.
Mobile 4 is a cross between a sound installation and a chamber music piece, scored for ten channels of real-time electronic sound plus a Laotian mouth organ called a khaen (performed by Christopher Adler), guitar (Colin McAllister), and accordion (me).  It was designed to be an ambient experience in a gallery, with musicians and speakers scattered throughout the room, rather than as a concert with a beginning and end.  There was no central stage to serve as a focal point; instead listeners were free to come and go.  The electronic sound was continuous throughout the evening, and for about 45 minutes, we three musicians joined in, adding a living layer to the installation.  Then as we finished in gradual succession, we all just got up and wandered away, perusing the paintings.
The walls of SDMA's Gallery 16 are lined with Renaissance and Baroque Spanish art, providing an ideal setting: El Greco, Bermejo, Hieronymus Bosch's Christ Taken Captive, Francisco de Zurbarán's Agnus Dei (~1640), and my favorite, Juan Sánchez Cotán's Quince, Cabbage, Melon, and Cucumber (~1602), with which I feel Mobile 4 demonstrates a particular aesthetic affinity.
Specifically, I was in town at the invitation of Alexander Jarman, curator of the museum's Summer Salon Series.  (Alexander is also an accomplished artist in his own right; while I was in town I got to see some of his collages-in-progress, beautiful stuff!)  I met Alexander while he and his colleague Paul were in Suzhou last year for the opening of an exhibition of works from the San Diego Museum of Art's collection at the Suzhou Museum (as reported here).  I was just finishing up my residency at the True Color Museum in Suzhou, and the museum director invited them over for an evening of traditional Chinese music, tea, and conversation, over the course of which they also had a chance to check out my Point of Departure show.  After I moved to Boston last November, Alexander and I kept in touch, and as this year's Summer Salon Series was coming together, he invited me to present a new work.
We were a pick-up ensemble for this performance; Christopher is a friend of a friend of my good friend the writer Lisa Movius from Shanghai, so I dropped him a line after I read on his website about the interesting work he's doing.  Christopher has spent a good deal of time in Southeast Asia mastering the khaen, a rich and resonant instrument in traditional music of the region; check out his webpage for more information and some videos and recordings of his performing.  The khaen struck me as a good match for the reedy sound of my accordion, and Christopher recommended his frequent collaborator Colin to round out our ensemble.
I was super pleased with how everything went, and I'll try to get some documentation up online soon.  I had my back to the gallery entrance, but I was informed that there were a lot of people pressing to get in while we were performing.  The piece seemed particularly well-suited to a gallery setting; I almost wished we hadn't distributed so many chairs, so that people would have been more encouraged to walk around during the piece and look at paintings.

* * * * *

Mobile 4 was a milestone for me on three fronts: new investigations into mobile structure, a real-time score display, and ten channels of algorithmic sound.
On the structural side, there are two primary behaviors in the piece: one is a sustained tone/drone that is kind of brushed in and out, Morton Feldman style; the other is a set of algorithmic melodies that is constantly being updated.  The drones are simply chosen randomly from the notes of the current scale.  Melodies are chosen from a table of available melodies algorithmically generated from the notes of the current scale.  There are five melodies available at any given time.  Periodically the program will replace one of the old melodies with a new one (randomly choosing from available pitches and durations, with the maximum melody length and the time between melodies varying according to a random walk).
Each sound source (instrument or speaker) behaves independently, but all are aligned to the same rhythmic pulse, and the global statistical balance between the melody and drone behaviors varies according to another random walk.  If we happen to venture too far over on the drone side, we enter a transition phase, in which all sound sources gradually converge onto one of the tones in the current scale, which then becomes a pivot tone, allowing for a common tone modulation to a new, algorithmically-generated scale.
The khaen is a diatonic instrument, so Christopher brought three different instruments (G minor, A minor, and Bb minor), allowing access to the full chromatic scale over the course of the performance, though only one diatonic scale at a time.  This limitation was built into the structure of the piece; when it's time to transition to a new key area, first we decide if we want to transition to a new khaen, and then we pick a pentatonic subset of the available diatonic scale.  (These aren't standard pentatonic scales, by the way, but any 5-note subset of the diatonic scale is fair game, creating a lot of interesting variety, sometimes with a major feel, sometimes minor, sometimes with a prominent tritone, etc.).  New scales tend to happen every 3-6 minutes (if we go more than 5 minutes without a transition, I start to nudge one to be more likely to occur).  This has the effect of kind of "cleaning out the ear," similar to what we did in main menu music of EndWar.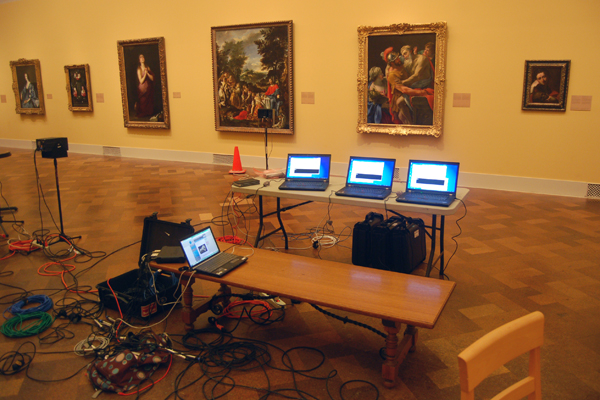 The cool thing is that the three live performers plus all of the electronic sound are coordinated, even though the melodic and scalar material is being generated on the fly.  We're all keeping a common pulse, playing from the same scales, from the same pool of melodies, with the same density of musical material, all converging to the same common tones and modulating together.  The result is that musical material is passed all around the room, allowing for a nice, mid-level coherence that keeps the piece from sounding too random or arbitrary.  Accomplishing this kind of coordination is difficult in a traditional open form piece, where the musical material is written out in advance, and even harder to accomplish when there are real-time processes generating new material all the time.
So the centerpiece of this new work was a system for disseminating algorithmically generated melodic content to acoustic performers.  This was accomplished by means of a Jitter patch I wrote that displays the notes to play in a scrolling musical notation, similar to Guitar Hero, but using traditional notation, scrolling right to left.  Using a computer display to guide acoustic performers is something I've been mulling over for years; it's always seemed a clear opportunity to apply design concepts from video games to issues of open form classical composition.  My first practical investigation was when I performed Christian Marclay's video piece Screen Play the Shanghai eArts Festival in 2008 (you can read about that experience in greater detail here).  I fleshed out this idea further in my Zhujiajiao Drinking Game (2009), which provides indications to performers when they should blow on beer bottles (to produce sound), and when they should drink from them (to change the pitch).  Traditional music notation was a logical next step, and I have plans to expand and apply this system to some piano studies as well as larger ensemble pieces.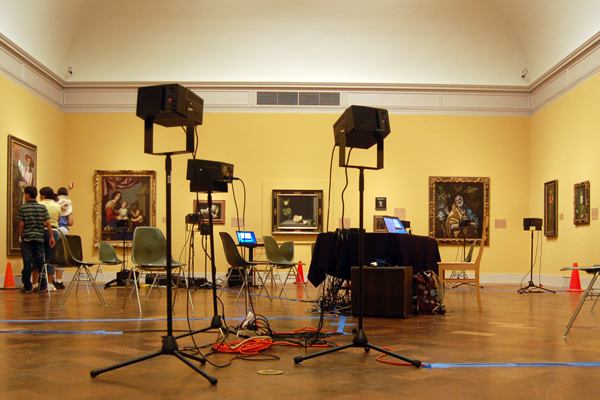 Ten channels of real-time, coordinated sound is a new milestone for me.  Previously, six channels was my maximum, in my installations Breaking New Ground (2008) and Kaleidoscope Music (2009, and coming soon to Axiom Center in Boston).  Well, technically, under the hood, my Self-Portrait, Dusk, at the Point of Departure (2010) incorporates 36 channels of audio, but it all gets mixed down to 4 channels before being sent out the speakers.  The exciting thing about having ten channels of sound is that you can really start to articulate a spatial texture, where a listener is not parsing individual signals coming from specific points in space, but there's a spatial density that emerges, a real sense of depth, kind of like what I was exploring in my 18 channel video piece.
This idea of coordinated multiplicity is really important to my work.  In this piece the electronic sound was generated by very basic synthesis, triangle waves for the most part.  I chose them because the timbres blended well with the reedy tones of the accordion and khaen; the overtones would sometimes fuse into a larger aggregate sound, but then fracture off into different points in space.  If you're wondering, we used the Anchor AN-1000X speakers, which worked well for this piece in a gallery setting.
As the title suggest, Mobile 4 is the fourth in a series of pieces exploring mobile form.  The title refers to the mobile sculptures of Alexander Calder, an important touchstone for my video game audio work.  A system like the music engine I designed for EndWar is analogous to a mobile sculpture, in that the individual elements of the composition are fixed (the short snippets of recorded phrases), but the relationship between them is in constant flux.  The first of my Mobile pieces was composed in 2004 for flute, cello, piano, and soprano, premiered by the Ensemble Sorelle at the Seattle Art Museum.  The second piece is very open ended, for any number of instruments, based on the cries of street vendors who used to pass through my first Shanghai neighborhood.  Mobile 3 was premiered at the 2Pi Festival in Hangzhou, a laptop composition based on recordings of traditional Chinese percussion instruments plus electric guitar.  In fact, these days most of my pieces contain some element of mobile structure, and I'm not particularly strict about which pieces earn the "Mobile" moniker; I thought long and hard about whether my Zhujiajiao Drinking Game should be titled Mobile 4, but in the end I decided that the social game aspects of that piece were more predominant.

* * * * *

In the process of preparing my performance/installation, I had ample opportunity to explore SDMA, located in the heart of San Diego's gorgeous Balboa Park (which I'm told is the largest urban park in the US, including several museums in addition to the SDMA, the San Diego Zoo, the world's largest outdoor pipe organ, and a lovely cactus garden), and I've become quite a fan!  In addition to the pieces mentioned above, I found Samuel van Hoogstraten's Feigned Letter Rack with Writing Implements particularly revelatory, a seventeenth century Dutch work with a flatness and painterly self-awareness that to me seemed to presage cubism and Magritte (respectively).  It also brought to mind this amazing sequence from Andrei Tarkovsky's Stalker.
Another work that caught my eye was Jean Hélion's Composition in Color (1934), evoking as it does the kinds of mobile structures I mentioned above.  And speaking of Calder, there's a great one near the entrance of the SDMA, which I took as an opportunity for a photo op.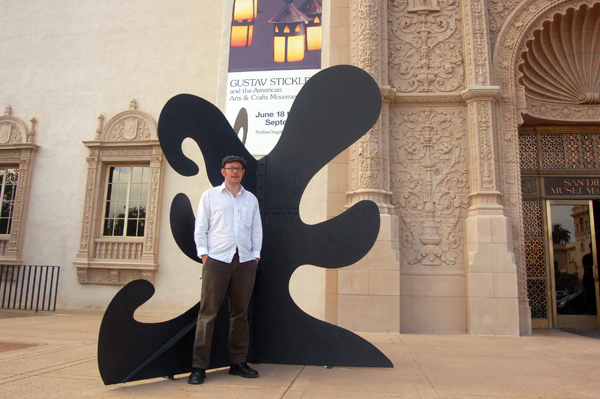 I also really dug the Rubén Ortiz-Torres show, the big From El Greco to Dalí exhibition (where I made the happy acquaintance of Spanish Impressionist Joaquín Sorolla), and the work of Gustav Stickley, whose furniture exhibition provoked the question addressed by this year's Summer Salon Series: "What does a city need?"
In between rehearsals, Alexander was my tireless tour guide to San Diego's busy arts scene. We checked out Double Break, a new art gallery and shop, not far from Balboa Park. I also got to meet super friendly and passionate Jfre from Disclosed Unlocation (we enjoyed a long, whiskey-fueled rap, together with my friend Ellen, closing down the charming dive bar Nunu's following my performance), David from Agit Prop, and the busy folks at SD Space 4 Art (a live/work space where we got to check out a dance rehearsal in progress). There's a lot of great energy in San Diego's arts community, and it felt fantastic to be part of it, if only for one fleeting week.  And everyone with whom I spoke was full of praise for the enthusiasm and imagination that Alexander brings to the scene, through the Summer Salon Series as well as his other diverse efforts.  I heartily join my voice to the throng!
I also popped in (on Alexander's recommendation) to the San Diego Museum of Contemporary Art's aptly titled Phenomenal show, featuring works exploring light and perception by James Turrell, Robert Irwin, Craig Kauffman, Mary Corse, and Larry Bell. And I was totally floored by Jennifer Steinkamp's absolutely jaw-droppingly wondrous Madame Curie, a huge, seven-channel algorithmic (pre-rendered) video installation, commissioned by MCASD specifically for their space, a tour de force, impeccably executed.  I dig it for its formal beauty, the layering of the digital branches and their gentle algorithmic swaying, the fixed perspective that allows for the evocation of a larger virtual space, the sheer scale of the thing, all in addition to the sly and ominous allusion to Marie Curie's research into radiation.  Digital video done right!
Jennifer Steinkamp "Madame Curie" at MCASD from lemon verbena on Vimeo.
To round out my visit, I made my first visit to the San Diego Zoo since I was quite young.  Having been on safari numerous times on visits to my parents in Kenya, I couldn't muster much enthusiasm for large animals in contained spaces, but I really enjoyed the aviaries, and kept thinking of Messiaen notating birdsong.  I also really enjoyed the lemurs.
While I was in town, it was great to meet up with my high school pal Ellen, who I met at show choir camp near Estes Park, CO, in the summer of 1991.  For the ten or so people in the world who have my Titled Untitled cassette from 1993, the song "Missing Ellen" was written for her (read more about such juvenilia here).  We seem to meet up every five years or so like clockwork; the previous visit had been in San Francisco during the Game Developers Conference in 2003 or so, until we met for dinner in Boston last month, and suddenly three weeks later our paths crossed again in San Diego!  I'm grateful to her for showing me around Seaport Village and Old Town and generously driving me to/from the airport.
The fantastic last day of my visit ended with a visit to the house of a friend of Alexander's on Mission Beach, frisbee on the sand, a swim in the chilly Pacific Ocean at dusk, a roller coaster ride, a burrito, and the fireworks from Sea World over Mission Bay, followed up by a bonus second dinner of Vietnamese food.  Can't wait to go back!

* * * * *

A big thank you to Alexander, Brittany, Greg, and everyone else at the museum for their help and support with this project.  Also a big shout out to Ferino's Music for repairing my accordion, severely damaged in transit, in time for the gig.  If US Airways ever assures you that their Gate Valet service is safe for musical instruments, don't you believe them!