[Note: this little essay was originally published on April 24, 2015, FWIW.]
One of my primary compositional projects of 2014 was a setting of Constantine P. Cavafy's poem The Tomb of the Grammarian Lysias for voice and audience members' mobile devices. Cavafy has been described as first great modernist poet of Greece, and he wrote this poem sometime between 1905 and 1915 while living in Alexandria. I premiered my setting at the joint International Computer Music Conference/Sound and Music Computing Conference in Athens last September and performed it again at the Beijing Central Conservatory of Music's MusicAcoustica festival in October. Then in January I presented it in a new Web Audio version at the first Web Audio Conference in Paris, co-hosted by IRCAM and Mozilla.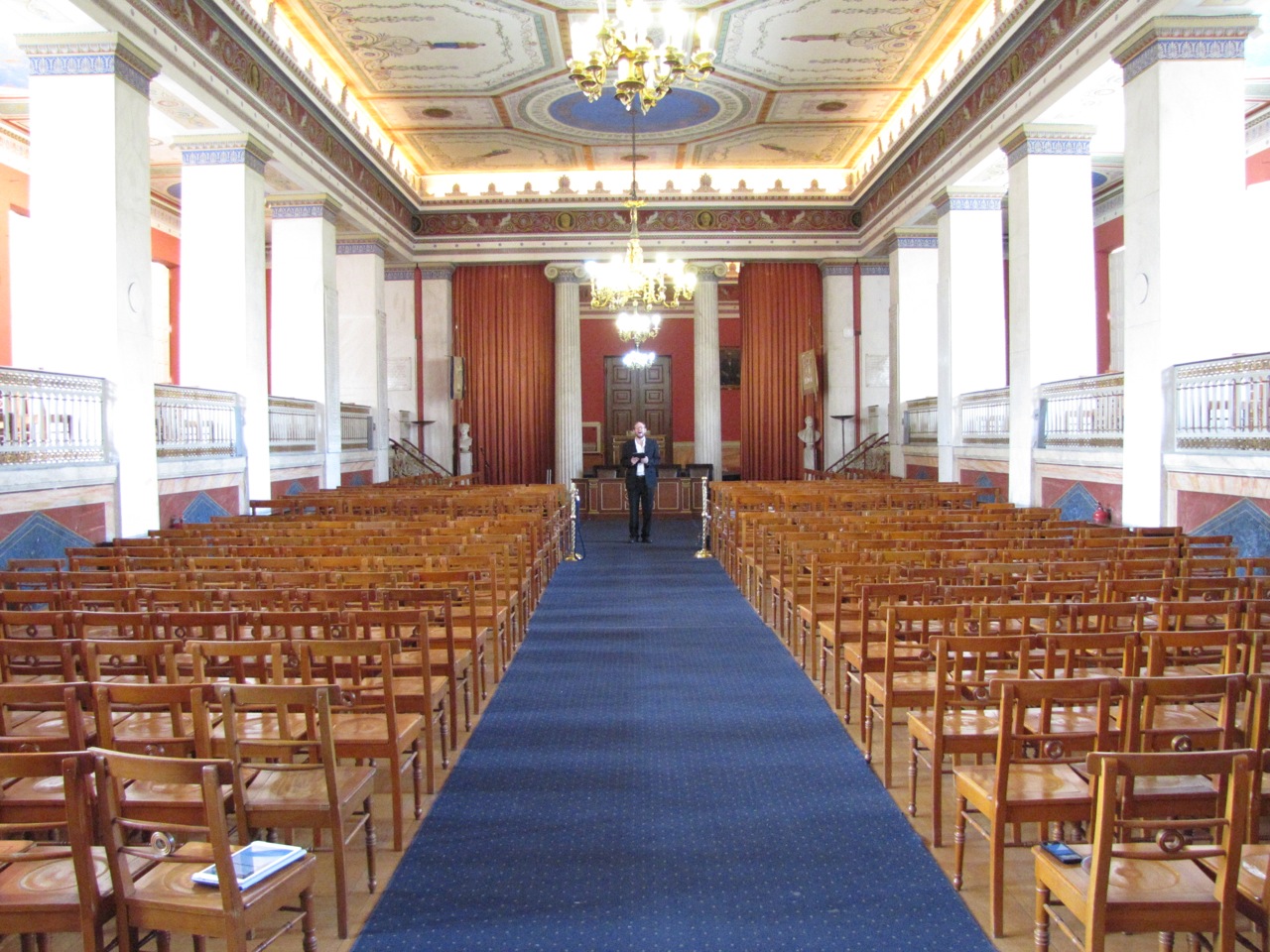 The soloist sings without amplification, and the accompaniment of the piece consists entirely of fragments of his (i.e., my) voice deployed algorithmically from the mobile devices of the audience. As the voice of the soloist (singing in Greek) is recorded and transmitted to the phones and tablets of audience members, a heterophonous, chant-like texture emerges. In works like this, I explore crowd-deployed speaker networks as a highly flexible and portable alternative to traditional electro-acoustic sound reinforcement infrastructure. This underexplored configuration, which I have been investigating in the App Choir ensemble I founded here at Berklee's Valencia campus, allows engaged audience members to enable the performance of a piece in a way that is somewhere between active participant and passive listener, and an unexpected intimacy results as the sound of a performer's sung voice emerges from a listener's very personal device. After the Paris performance, someone commented that this was one of the rare concerts at which the audience wasn't fiddling with their phones and tweeting or texting, since they were actually using their phones to allow the music to happen.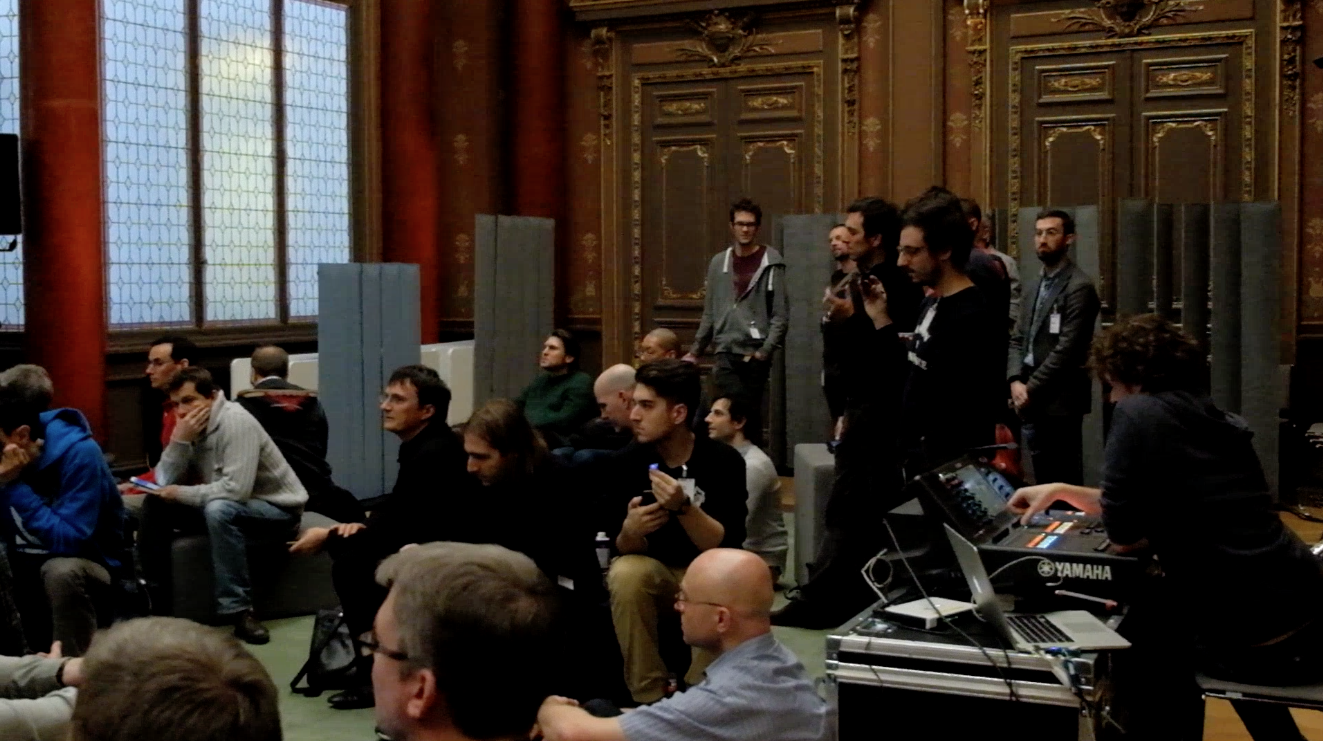 I started composing this setting simply because I was inspired by the poem and recent circumstances, and I was also curious to explore this unique format, with no particular performance prospect in mind. When I saw the call for scores for the International Computer Music Conference in Athens on the theme of "From Digital Echoes to Virtual Ethos," it seemed such a perfect match: my setting was in Greek, based on a tuning system first articulated by Ptolemy in the second century AD, consisting entirely of digital echoes of a soloist's voice on audience members' mobile devices. My piece was accepted and included in the opening concert of the conference on September 14, 2014, in the historic Ceremonial Hall of the University of Athens.
The poem might seem an odd choice, but I was drawn to it for several reasons. It describes a space, variably navigable, and presents a non-prioritized list of different types of writings, which, together with the Greek term γραφές that has been translated as "variant readings," suggested an intriguing approach to text setting that incorporates some kind of variable, real-time process, such as I often employ in my work.
I just received word that a paper I co-authored with Javier Sanchez (who helped tremendously with the code architecture) describing this composition has been accepted to the ISEA 2015 conference in Vancouver this August, so I'll save the technical discussion for then. [Update: You can read that paper here!] For now I'd like to share a bit about the particular constellation of personal associations that kept this text in my mind as 2013 drew to a close.
In French, a bachelor party is an "enterrement de vie de garçon:" the burial of the carefree life of a young man. While it's an amusing term, the funerary imagery underscores what a dramatic transition the nuptial proceedings represent. (Although since Jutta and I had just a short time with friends in Berlin before our wedding in August 2013, we ended up simply combining our bachelor and bachelorette parties into a group dinner.) We honeymooned in Greece, the first visit for both of us. On the island of Santorini, we bought books of Greek poetry at Atlantis Books in Oia, following the recommendations of the proprietor. We watched the sun set from the roof of the bookstore and drank assyrtiko, and I read Constantine P. Cavafy's Ithaca to a small group of tourists.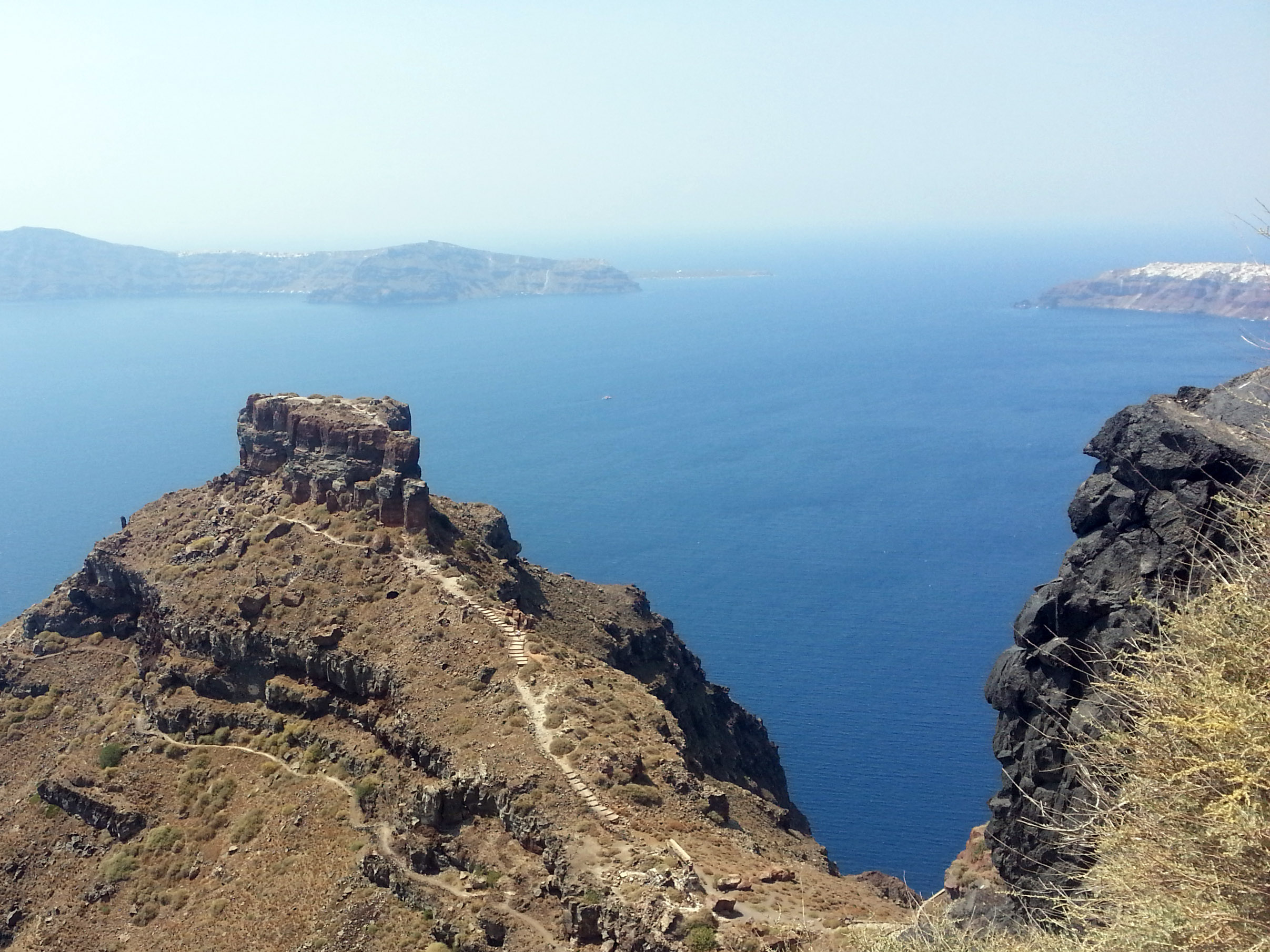 Then on November 22, my grandfather died. In all of his 106 years, it is unlikely anyone ever referred to him as a grammarian. But I was reminded of something Laurie Anderson said, that when her father died, it was like a whole library burned down. Art Houge was of 100% Norwegian stock, and I'm pretty sure he had never been to Greece, maybe not even to Europe. But I had recently read an article about the exceptional longevity of people living on certain Greek islands, and I thought of the photographs we saw adorning cremation boxes in an isolated chapel on the hills of Amorgos.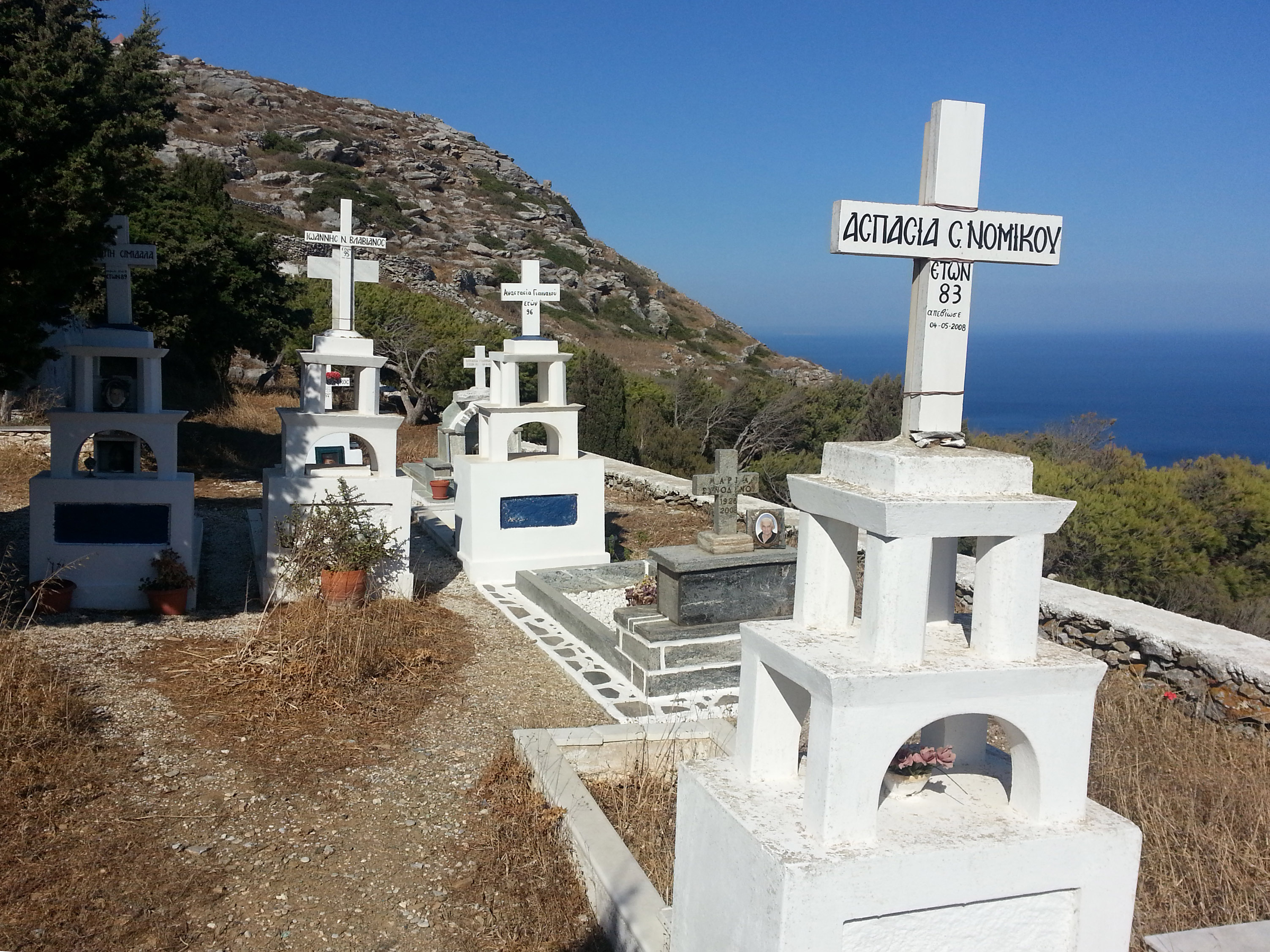 I probably read "The Tomb of the Grammarian Lysias" for the first time on Amorgos, or if not, shortly after. I can't remember if it immediately struck me as well suited to a musical setting, but at some point the commemorative aspect of the poem became associated with a recording of Greek Orthodox music I bought at the Nikos Xilouris shop in Athens on the final leg of our trip. I decided to set it in the original Greek, so I asked my student Niko to read the poem for me to record, and I wrote a simple app to play individual phrases at the touch of a button, which I used to practice reciting the text on my twenty-minute walk to work every day, gradually getting a sense of the inflections and formulating a melody.
In my video game work and sound installations, I explore sound as a landscape, rather than a narrative, or maybe landscape as a kind of narrative. This poem describes a space, a library within a city, with indications of the relative positions of things. There's a description of the kinds of texts found in the library, listed in an arbitrary order, as though selected from browsing the stacks. Lists, like a litany or a mantra, can evoke a kind of interior landscape, a state or mood. I remember Psalm 150, which I set for The Esoterics using similar techniques in 2004, in which the psalmist exhorts us to praise the Lord with a long list of instruments, but I'm sure we're not intended to follow the instructions sequentially.
The poem provides a space that is a memorial, a place you come to remember, as books and writing are ways of remembering. I consider my setting, composed at a time of significant life transition and dedicated to the memory of my grandfather, as a way to pass among these books.
Λυσίου Γραμματικού Tάφος
Κωνσταντίνος Π. Καβάφης

Πλησιέστατα, δεξιά που μπαίνεις, στην βιβλιοθήκη
της Βηρυτού θάψαμε τον σοφό Λυσία,
γραμματικόν. Ο χώρος κάλλιστα προσήκει.
Τον θέσαμε κοντά σ' αυτά του που θυμάται
ίσως κ' εκεί — σχόλια, κείμενα, τεχνολογία,
γραφές, εις τεύχη ελληνισμών πολλή ερμηνεία.
Κ' επίσης έτσι από μας θα βλέπεται και θα τιμάται
ο τάφος του, όταν που περνούμε στα βιβλία.

The Tomb of the Grammarian Lysias
Constantine P. Cavafy

Very near to the right of the entrance to the library
of Beirut, we buried wise Lysias,
a grammarian. The spot is very well suited.
We placed him near to those things that he may
still remember there – commentaries, texts, technologies,
variant readings, volumes filled with Hellenistic studies.
And also this way, his tomb will be seen and honored
by us, when we pass by the books.
Translated by Niko Paterakis and reproduced with kind permission.