My solo show is confirmed, so stoked, here's the full press release…
中文版本在下面!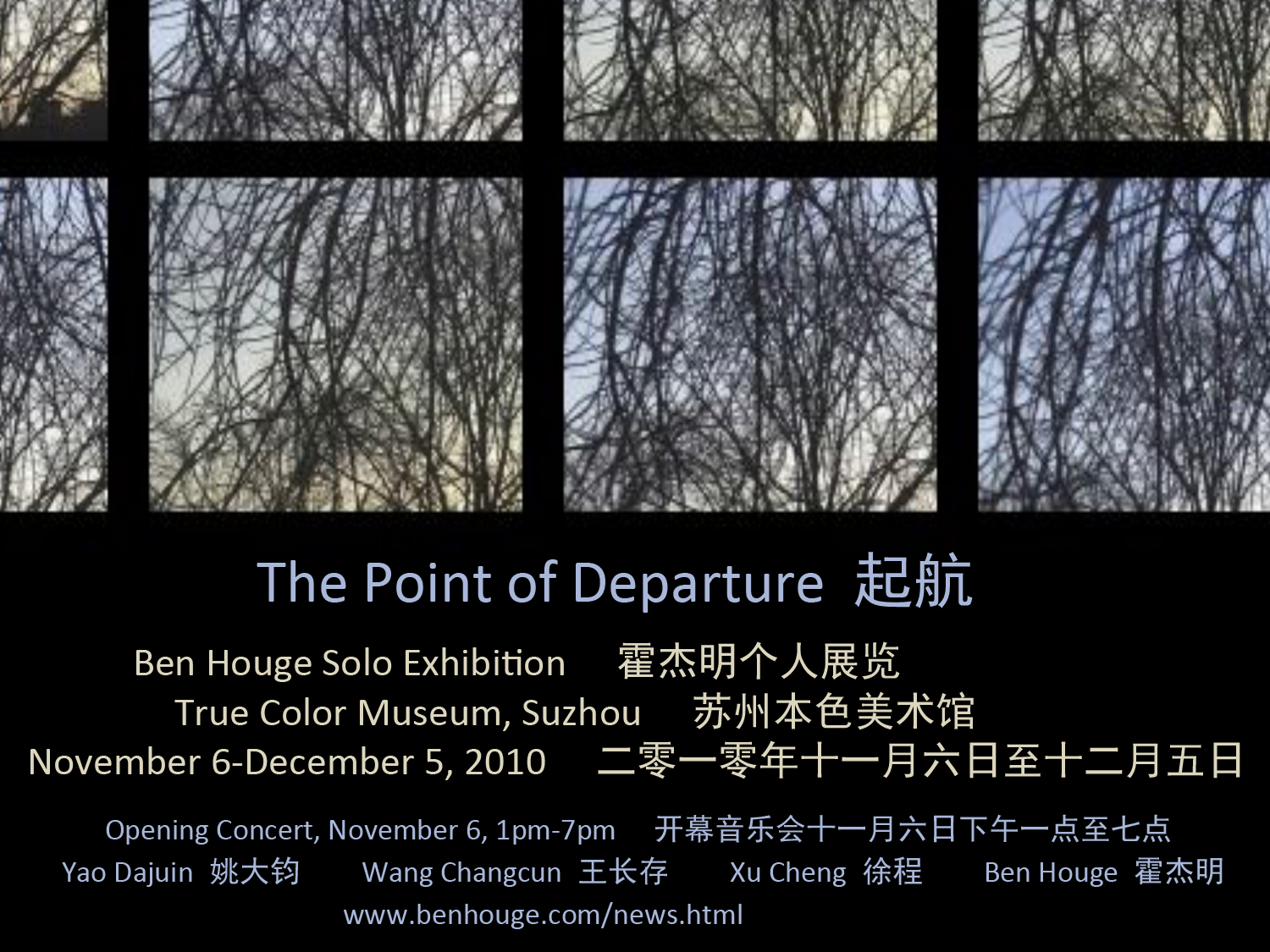 The Point of Departure: Ben Houge Solo Exhibition
November 6-December 5, 2010
http://www.benhouge.com/news.html
True Color Museum 本色美术馆
219 Tongda Rd
(at the intersection of Jiushenggang Rd, near Guoxiang)
Wuzhong District, Suzhou, China
苏州市吴中区通达路 219 号本色美术馆(近郭巷)
0512-65968890
http://www.truecolormuseum.org/
Composer and digital media artist Ben Houge presents the culmination of his six-month residency at Suzhou's True Color Museum with a solo show entitled "The Point of Departure." The focal point of this exhibition is a new, real-time 18-channel video installation entitled Self-Portrait, Dusk, at the Point of Departure, an ambient work that applies concepts from videogame design and granular synthesis to video, to make a poignant moment last forever. Also included in the show are selected videos and digital prints providing a survey of Ben's visual output over the past two years.
An afternoon-long digital music festival will celebrate the opening of the exhibition on Saturday, November 6, from 1pm until 7pm. The lineup includes performances by Hangzhou-based digital artists Yao Dajuin 姚大钧 and Wang Changcun 王长存, as well as Shanghai's Xu Cheng 徐程 (of Torturing Nurse). Ben's live performances are known to vary widely in style, and he will celebrate this diversity by performing three different sets of music: an ambient electronic set, a synth-pop set of original songs, and an acoustic set of favorite tunes by artists including John Cage and Jay Chou 周杰伦.
Long active in new music circles in China and the US, Ben Houge has been increasingly visible in galleries in recent years, with work exhibited at Art+Shanghai Gallery, OV Gallery, and [the studio] in Shanghai, as well as at the Today Art Museum in Beijing. His video Shanghai Traces, originally exhibited at OV Gallery's Make Over show last spring, was shortlisted for the Guggenheim's YouTube Play Biennial and has recently been acquired for permanent installation at Shanghai's Glamour Bar. Ben has performed around eastern China and at all of Shanghai's primary live music venues, as well as at the Shanghai eArts Festival, the Mini Midi Festival, Hangzhou's 2Pi Festival, the Zendai Museum of Modern Art, the Shanghai Conservatory, the South River Art Center, and several NOIShanghai events. This summer he toured Germany with trumpet player Justin Sebastian. Prior to embarking on a full-time career as an artist, Ben spent twelve years designing audio for videogames, most recently serving as audio director of Tom Clancy's EndWar (Xbox 360/PS3) at Ubisoft Shanghai. The concepts of non-linear, real-time, algorithmic and procedural structure he honed as a videogame developer serve as the point of departure for his more recent work in a broader cultural arena. Much more information about Ben is on his website: http://www.benhouge.com.
This exhibition and music festival mark Ben's final public appearances in Shanghai for the immediate future, as he relocates to the USA for much of 2011. The artist would also like point out that a train from Shanghai to Suzhou takes less than half an hour these days, and a round trip ticket is less than 100 RMB. So don't miss this unique opportunity to experience the various facets of Ben Houge's evolving oeuvre in one idyllic setting!
In an ancient city renowned for its cultural heritage, True Color Museum is Suzhou's key destination for contemporary art. Founded by the intrepid music business entrepreneur Chen Hanxing 陈翰星 in 2008 as one of the leading privately owned art museums in China, True Color Museum has exhibited artwork by leading artists from China and around the world, most recently in the acclaimed "Nature of China: Contemporary Art Documenta" exhibition last summer and in Taiwan's Hsiau Jungching 萧荣庆 solo show (ongoing through November 11). The beautiful museum compound, designed by Chen Hanxing, is a destination in itself, and the museum's active artist residency program has nurtured the careers of many established and emerging artists. Additional information is available on the museum's website: http://www.truecolormuseum.org/.
《起航:霍杰明个人展览》
二零一零年十一月六号至十二月五号
苏州本色美术馆
苏州市吴中区通达路 219 号本色美术馆(近郭巷)
0512-65968890
http://www.truecolormuseum.org/
http://www.benhouge.com/news.html
个展《起航》是作曲家以及数字媒体艺术家霍杰明(Ben Houge)作为在苏州本色美术馆六个月驻馆经历的浓缩。这次展览的焦点他新作的18个频道录像作品影像装置——《起航点黄昏自画像》, 把电子游戏和粒状合成的概念融合并应用到作品中以营造令人长久感动的氛围 。另外,本次展览中另外一些数字媒体作品是霍杰明过去两年中对此方面的研究。
为庆祝展览开幕,11月6日星期六,将有一场从下午1点持续到7点电子音乐节。会有来自杭州本土声音电子艺术家姚大钧和王长存,以及上海的徐程(来自Torturing Nurse乐队)进行表演。 霍杰明的现场表演一向风格广泛,他将有三次不通风格的表演体现这样的多样性:一次是电子环境音乐,一次是合成器流行歌,一次是我最喜欢的周杰伦和约•翰凯奇歌曲集合。
由于长期在中国和美国新音乐圈活跃,霍杰明的展览的已经越来越多:上海"艺术+上海"画廊、OV画廊、[the studio],以及北京的今日艺术馆。他的录像作品《上海轨迹 Shanghai Traces 》,去年春天参与OV画廊的"Make Over"展览,入围的古根海姆的YouTube播放双年展,最近永久的成为了上海Glamour Bar的室内装置。 霍杰明在中国东部地区和上海所有的主要现场音乐场所表演过。以及上海电子艺术节,迷你迷笛音乐节,杭州二皮音乐节,上海证大现代艺术馆,上海音乐学院,南岸艺术中心等等 。今年夏天,他和小号手贾斯汀塞巴斯蒂安去了德国。 作为一个全职艺术家,霍杰明之前的十二年为视频游戏设计声音,最近在上海的育碧游戏软件开发商担任 Tom Clancy's EndWar(Xbox 360/PS3) 的音频主管。他作为一个视频游戏开发商磨练出非线性,实时,算法和程序结构的概念,让他在一个更广泛的文化领域工作有一个新的出发点。更多关于Ben请链接:http://www.benhouge.com.
在这个古老又富涵文化底蕴的城市,苏州本色美术馆因当代艺术而闻名,是一所成立于2008年由企业家陈翰星开办的私人美术馆。本色美术馆展出了来自中国和世界各地的先锋艺术家的作品,近期有今年夏天的"中国性:当代艺术文献展"展览,以及台湾萧荣庆的个展(展出至11月11日)。 美术馆由陈翰星设计,外观造型独特,而其本身就是一个目标:美术馆的艺术家留驻计划为很多知名或新兴艺术家建立了良好的平台。更多关于苏州本色美术馆的消息请链接:http://www.truecolormuseum.org/.