At PechaKucha Boston earlier this week I presented the US premiere of my Statement of Purpose. I primarily think of it as a composition, but you might also call it a performance piece. I suppose "multimedia lecture" might be most accurate. It was written in September 2008 for presentation at PechaKucha Shanghai and thus adheres to the PechaKucha format: 20 slides of 20 seconds each. In Boston as in Shanghai, I think it seemed to go over pretty well.
Statement of Purpose is consciously indebted to John Cage's Lecture on Nothing, one of the pieces collected in his book Silence, which I first read many years ago. The thing that struck me about these early Cage lectures and essays is that, in many cases, the message is in the form of the work, not the content. Rather than just describing his ideas about rhythmic structure, he demonstrates them; you experience them directly.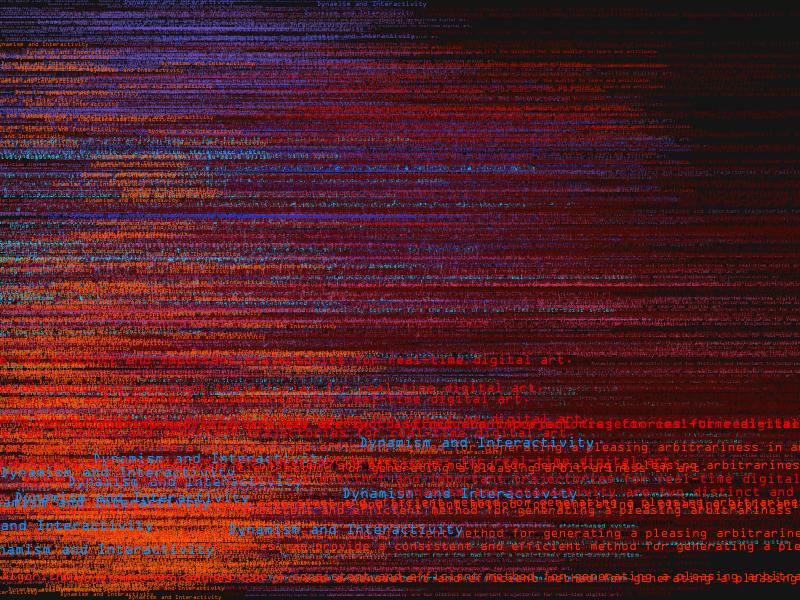 So in my piece, which I have described as an update of Lecture on Nothing for the digital era, I've adopted a mobile structure, as opposed to a linear lecture format. I take great inspiration from Alexander Calder, because in his mobiles, the individual elements are fixed, but the relationships between them are in constant flux. So here my lecture is arranged topically, around nodes of ideas. The main idea-nodes are
Aspects of Music and Audition
Stasis in Sound
Dynamism and Interactivity
The Current State of Videogames
Non-Linear Structure
The Nature of Multimedia
On each of these topics, I wrote a bunch (around six to ten, I think) of one sentence statements, single ideas that could be presented in any order. Then I wrote a program that generates a script by randomly picking one of these idea-nodes, picking some of the ideas associated with it, picking another idea-node, etc. Pauses are added between each statement to vary the density of the lecture over time (using a random walk, aka a "drunk" function or brown noise), in the same way that a tide or a rainstorm has a changing contour over time. Indications about when to clear my throat, gesture to the screen, take a swig of beer, etc. are also algorithmically scattered throughout the script, as a kind of textural element, subverting the ephemera of a typical lecture scenario.
I also interspersed a purely musical element, consisting of a set of low drones plus a set of brief melodies in a higher register (outlining an A mixolydian scale) all sung on a textless "ooh." It's pretty arbitrary; I thought the piece could use it, and I like the texture that results. But it also serves to focus attention on the abstract structure of the piece, rather than the content, and to suggest that the piece as a whole may be considered in musical terms.
There's another type of behavior, too, statistically less likely to occur. While 16 of the 20 slides use the above formulations, the remaining 4 are shuffled riffs on standard salutations and closing statements: "Hello," "Good evening," "My name is Ben Houge," "Thank you for your attention," "Good night," etc. The idea is that through repetition and dislocation, these phrases become formal (rather than syntactical) elements; it's very similar to what I'm doing with radio broadcasts in Radiospace. Having another type of behavior helps vary and articulate the overall form. I also just think it's funny, and I sensed that the audience was similarly amused. Humor is like music, in that it plays with audience expectations, as when I end my piece with a cordial, "Hello, everyone."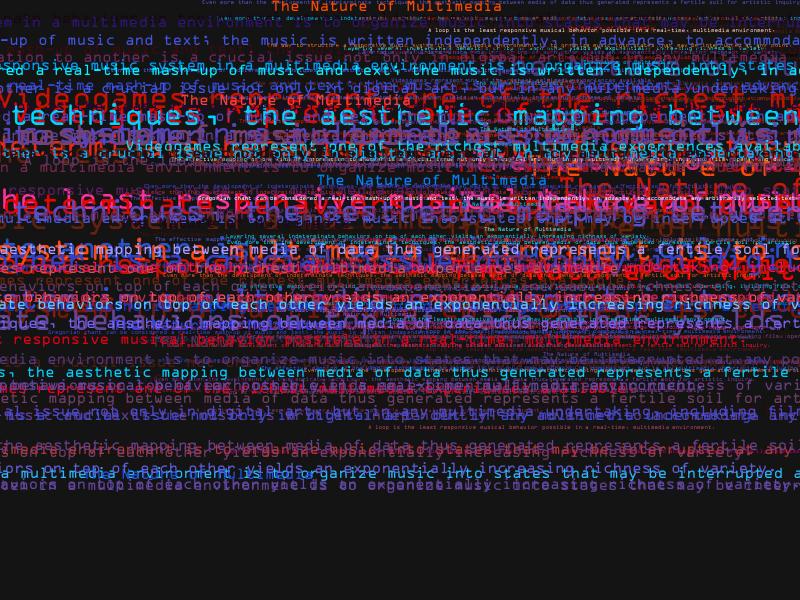 The slides were generated using very similar techniques to those I employed in my 29 Giraffes series, but substituting text for little chunks of photographs. The colors, in fact, are algorithmically extracted from the same Nanjing Dong Lu source material I used in my Giraffes. Here again, the emphasis is more on the texture that emerges from all this superimposed text, rather than on the text itself; as with the algorithmically generated script, the slides communicate through form, rather than content.
The whole piece has an audio accompaniment, too, one 20 second audio clip per slide. To create this backdrop, I processed a recording of myself reading the text of the piece using a bunch of custom software I had lying around at the time, programs I had developed for other pieces. You can identify bits of Psalmus, Study for Eventual World Domination (my contribution to The Bike Bin Project), Radiospace, and a granular synthesis demo I did as a videogame audio engine prototype. Looking back, the evocations of these pieces that crop up (as of the Giraffes) provide a nice snapshot of my digital workspace in September 2008, which was part of the idea.
To assemble all of these elements, I selected the 20 slides I wanted to use of the many I had generated, then I wrote a program to shuffle them. Same for the 20-second audio segments I generated. In the end, it's a combination of arbitrary decisions and procedurally generated bits, which is really how just about any artwork comes together, digital or otherwise.
The result is that ideas come and go, freely floating. I've referred to a lot of my pieces as "meditations," and the term is certainly apt here. Ideas recur, sometimes in different media (text from the slides may pop up again in the spoken presentation or recorded backdrop). They "interpenetrate," to use one of John Cage's favorite terms. They reinforce each other, and they add up to a way of thinking, which is very much my way of thinking, a network, a web of ideas, all connected.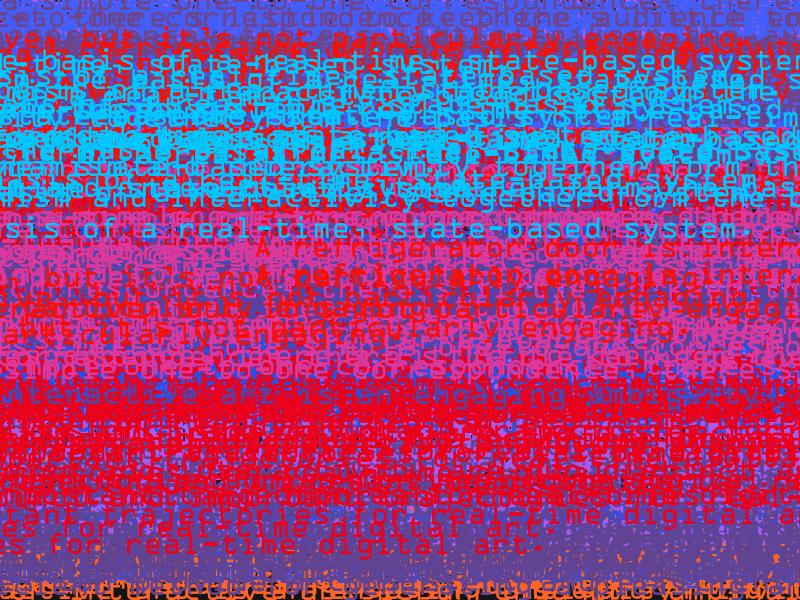 It's a good time for me to revisit this piece. Especially in the past year, I've been thinking a lot about the meaning that can be conveyed through pure structure. I think this has come to the fore as I've been increasingly active in visual media. In music, we take this for granted; you could say that music traditionally conveys meaning through structure alone. Music is the most abstract of the arts; representation or mimesis in the pre-recording era was by far the exception (think of the timpani evoking thunder in the "Scène aux champs" of Berlioz's Symphonie Fantastique). In some cases you can say what a piece is "about," because you know something of the circumstances of its composition, or because of a prefatory note by the composer. But principally, music's meaning is all in the relationships of different frequencies, rhythms, velocities, timbres, etc., and, more importantly, the calculus of how this all changes over time. You would never say that even as abstract a composition as The Art of the Fugue is meaningless.
So coming, as I do, from a background in music, it's only natural for me to approach my visual art in the same way, applying the same types of structures that I use in my sound work to visual information, and it's been surprising to see how the conversation unfolds differently. A prominent arts person (don't worry, no one you know) came to see my show in Suzhou last fall, and I was kind of amazed when she asked me what my piece was trying to convey. A musician would never think to ask such a question. As Elvis Costello said, if I could have written the song with any other words than the words I used in the song, I would have written a different song, wouldn't I?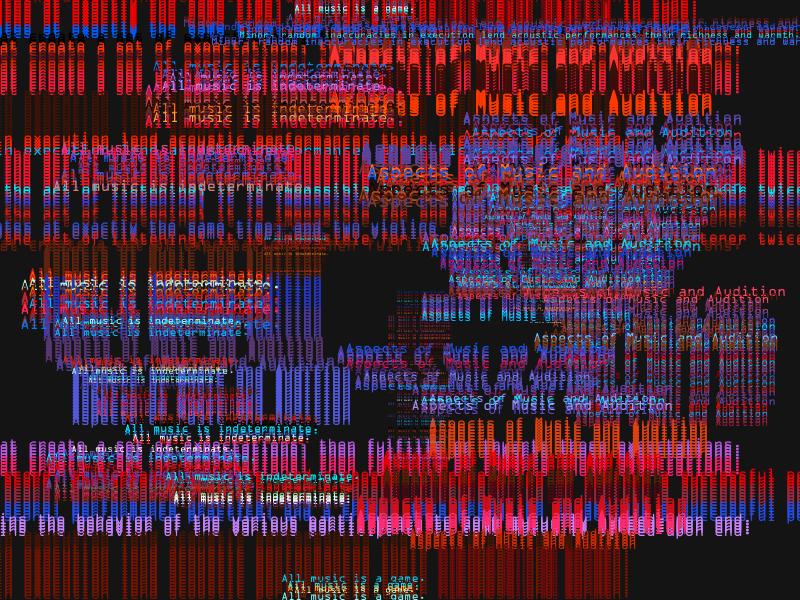 Of course there was a bit of a conscious impulse to poke a hole in the sometimes punctilious proceedings of a standard PechaKucha event (I have my Seattle School cohorts to thank for any vestigial confrontational aesthetic). As when I sneakily built an ambient electronic piece from mildly acrimonious pre-show chatter at Opensound a few weeks ago, I like the idea of snapping people into a different state of awareness with some new or unexpected realization. I also like the pacing of it; PechaKucha is usually about people cramming as much as they can into their 6:40, but my script actually includes indications to pause for as long as 10 seconds. But both times I've presented this work, the audience seemed to get it and dig it; it's not just some avant-garde stunt. The message was conveyed.
Statement of Purpose was my first project after leaving Ubisoft at the end of August 2008. The deadline was tight, less than a month, as I recall, and I liked the idea of doing a new piece completely from scratch to emphasize my new trajectory as a full time, independent artist. I remember staying up all night to get it done, with an urgency that had been missing from my corporate gig for quite a while. I consciously wanted to make a statement about the main issues I was setting out to address in my work, my mission, as I considered it (and still do). Check out some documentation from that performance, and a video excerpt below.
I originally wanted to generate my slides and script in real-time using custom software, which I feel is technically still in keeping with the PechaKucha format, but in Boston as well as in Shanghai, the organizers very understandably wanted to stick to a standard set-up for all speakers. This is still something I want to explore, though, particularly the idea of giving cues to a performer on the fly, exploring the idea of real-time score generation (which is exactly what happens in a music videogame like Guitar Hero, and which I've already started to explore in pieces like my Zhujiajiao Drinking Game, more commonly referred to as Beer Hero). I've been contemplating a revision of this piece for a long time, to include this real-time score idea, write some new modules, add some Chinese text, incorporate multiple screens of real-time generated imagery, and blow past the 6:40 PechaKucha time limit to create a full, hour-long presentation. If anyone would like to sponsor and/or host such an event, please let me know!