I've often stated that I prefer new experiences to new stuff, so last October, along with the new Jay Chou 周杰伦 CD, foam backing for some African batiks (so that I can use them as acoustical treatment), basil and rosemary plants, and a fresh-baked apfelkuchen, Jutta told me there was one more present coming, but that I would have to wait for a free and sunny afternoon to enjoy it.
So about three weeks ago, when I was planning an excursion to Pudong to pick up a new Xbox 360 (my old one, a first generation Japanese model, finally bit the dust, continuing to display the three red lights after having been repaired several times) and have dinner with my first Chinese teacher Shi Linna 施琳娜 (she's also Jutta's latest, last year's Christmas present), Jutta suggested we might want to leave a little early.
When we emerged from the Dongchang Lu subway stop, she revealed my birthday destination, already dominating our field of view: the Shanghai World Financial Center 上海环球金融中心, by some measures the tallest building in the world, designed by New York's Kohn Pederson Fox and built by the Japanese firm Mori Building.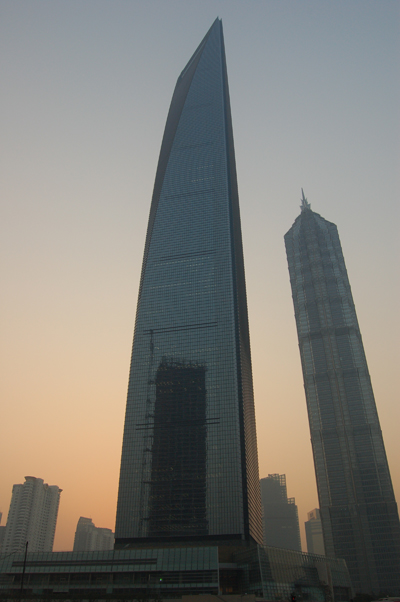 Superlatives can be tricky, depending on your yardstick, but Shanghai sure loves its superlatives. The spire of the Taipei 101 building in Taipei reaches 509 meters, which is why it's generally considered the world's tallest building. (Antennae don't count, which is why the Sears Tower's 527.3 m antenna in Chicago doesn't place). But the SWFC has the world's highest roof, at 492 meters, and the highest occupied floor, the Observation Deck, at 474 meters. It's also got the tallest hotel, surpassing the Grand Hyatt at the Jin Mao Tower just next door (though presumably the Jin Mao retains title to the world's highest post office). (Of course when the Burj Dubai is completed, at over 800 meters, it will dwarf everything on the planet; it's already the world's tallest free-standing structure, though it won't be done for another year or so. I checked in on progress last April, and it's crazy; ooh, look at my Facebook pictures!)
For me, the jury was out on the SWFC for a long time. I've always been a fan of the Jin Mao Tower 金茂大厦 (designed by Chicago's Skidmore, Owings and Merrill), striking, bold, yet tasteful, mindful of its geographical, cultural, and historical environment. At first it struck me as goofy to see an even taller building going up right across the street, instead of spreading out to create a better balanced skyline. And of course, it's impossible to ignore the SWFC's remarkable resemblance to a gargantuan bottle opener. The form of it seemed a bit too simple to occupy so much real estate.
Other Shanghai residents have also voiced their skepticism; I got an earful from a taxi driver the other day about how the SWFC resembled a menacing Japanese tanto, the traditional samurai short sword, an association no doubt exacerbated by the construction company's Japanese provenance. The tale is often told about how the opening towards the top of the building was originally designed to be a circle, but that it too closely resembled the rising sun of the Japanese flag (the building already being located on Shanghai's east side), met with protests, and was traded for a trapezoid.
But as we examined the building more carefully, I found it surprisingly slippery to get a handle on such a simple form. I had already noticed how its actual height could be hard to gauge; even though it's located right next to the Jin Mao tower, the relationship between the two buildings, and to other buildings in the Pudong skyline, changes constantly based on one's perspective, and there are many vantage points from which the Jin Mao building still appears taller.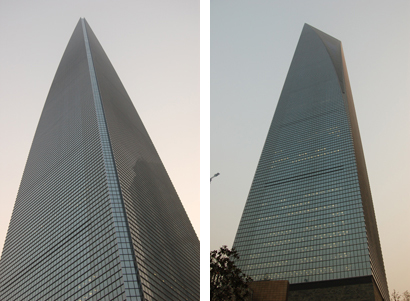 Even from up close, the shape and scale of the building remain elusive. Two of its edges taper as they recede into the sky, playing with your sense of perspective, so that you're not sure if the building is narrowing, or if it's merely receding into the distance. At times it looks flat, at other times curved, sometimes symmetrical, sometimes asymmetrical. Its form remains ambiguous, requiring you to continuously engage and evaluate it, which strikes me as a good quality for one of Shanghai's largest objects to possess, positioned, as it is, for millions of people to see and contemplate each day.
So after I finally surrendered a hard won thumbs-up on the building's exterior, we ventured inwards. The SWFC's basement courtyard houses some retail stores (including a Starbucks and, I believe, a Stone Cold Creamery), underneath lots and lots of office space; the upper floors contain the new Park Hyatt, and the building is crowned with an observation deck.
Although the day on which we went was sunny, it wasn't super clear, and we were racing to catch the sunset. There's quite a ways to go from the point of entry until you actually reach the optimal vantage point, so if you go, you should probably plan to take more time than we did. We didn't have to wait in line on a Tuesday afternoon, but I've heard of long lines on weekends, since the place just opened on August 30. (It was a long time coming, too; I read that construction started in 1997 but was halted for 5 years due to financing issues before resuming in 2003.)
I was almost disappointed there wasn't a line, in fact, since there were round screens on the ceiling that seemed to be emitting some kind of dripping sounds in the area where we would have had to wait. You could do a really fun sound-installation with such a set-up, but since we didn't have a chance to linger and listen, I can only assume they seized the opportunity to do something amazing.
From here we were ushered into the "pre-show room," where we beheld the baffling "pre-show." I cannot fathom what inspired the designing of this dark vestibule, with a model of the SWFC encased in a clear cylinder in the middle of the room. When the door closed, the lights dimmed, and the model started to spin, as some electronic minimalist music began to play. Lights began to flash in time with the model's rotation, producing little animations of strange fruit helicopters along the sides of the cylinder, a cartoon version of one of Gregory Barsamian's kinetic sculptures (one of which was on display this year, I believe, at either the SH Contemporary Fair or the Biennale, I forget which, and at the Zendai Museum back in 2006). After maybe 2 or 3 minutes, the rotation slowed, the lights came on, and we were permitted to leave. I have no idea why we were forced to watch this garish little spectacle before being permitted into the elevator; it conveyed absolutely no information, was of limited entertainment value, and as an aesthetic experience seemed meaningless in the extreme. I nonetheless smiled upon exiting, bemused to live in a world where such a goofy, high tech bauble could exist.
The elevators presented us with more space-age kitsch, white walls with abstract video projected from a portal on the ceiling. The whole experience bore more than a passing resemblance to a Disneyland ride (something in Tomorrowland, like Star Tours, or Captain EO) with uniformed personnel to complete the scene.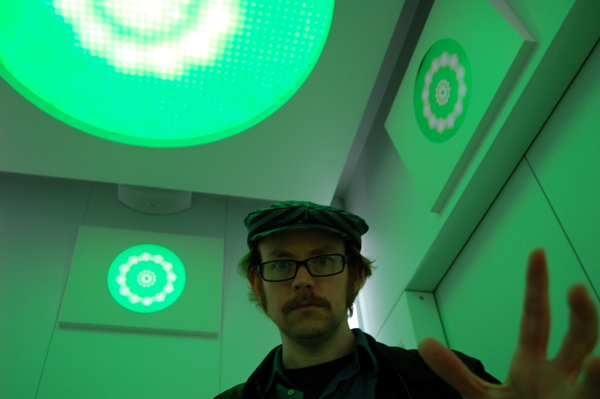 In the end, we didn't quite make it to the top observation deck before Shanghai's soupy smog swallowed the orange sun, but the view was nonetheless spectacular. The three observation decks actually line the top and bottom of the big hole in the top of the building (which I realize is not visible in any of my pictures; my apologies), and the top deck has glass panels in the floor to prove it, providing a sickeningly vertiginous vantage on traffic far, far below. I think there are different price points for the different observation decks, but I don't know why you wouldn't head all the way to the top, if you had already come so far.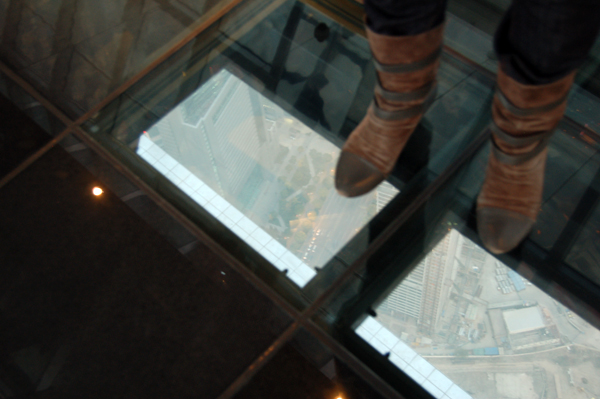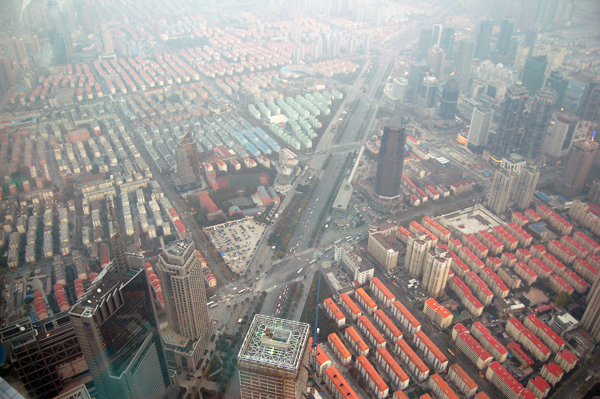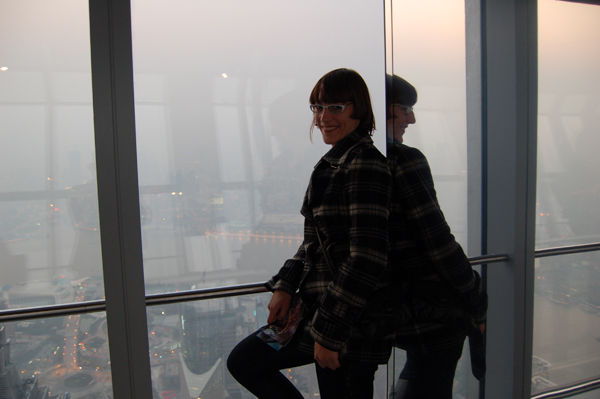 The space age décor and lighting continue to permeate the observation decks, especially the sci-fi escalators that carry passengers the last bit of the way to the top, but upon arrival, at least at this most wonderful time of the year, the synthetic new age music jarringly gives way to an anachronistic mix of pop Christmas tunes: Wham!'s "Last Christmas," John Lennon's "Happy Xmas (War Is Over)" (#2 on my list of John Lennon songs I never want to hear again), and charity single "Do They Know It's Christmas?" (This has got to be one of the dumbest songs ever penned; "There won't be snow in Africa this Christmas," as though that was a pre-requisite for anything. Some of my happiest Christmases have been spent in Africa, and I didn't miss the snow one bit. It's not like there was snow in Bethlehem, ya know.)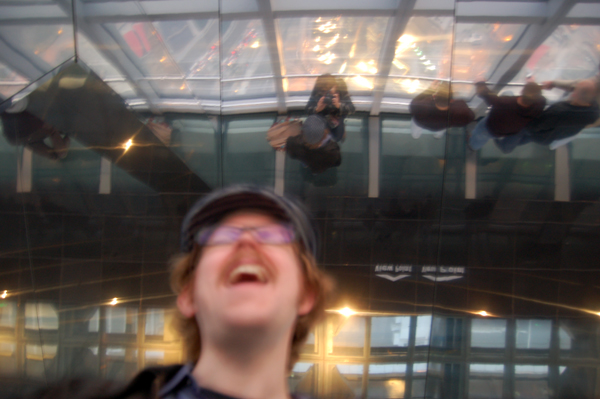 Having missed the sunset, we lingered for a while, waiting in vain for the lights to come on along the Bund. Shortly after ascertaining that 5:30 pm was not the magic hour of illumination, we decided to head downstairs and compare this view with one from the Park Hyatt. This entailed going all the way back down to the bottom (via a rather bland gift shop, with a tiny coffee bar in the corner, where you can actually buy SWFC bottle openers) and walking around the base of the building to the entrance of the hotel.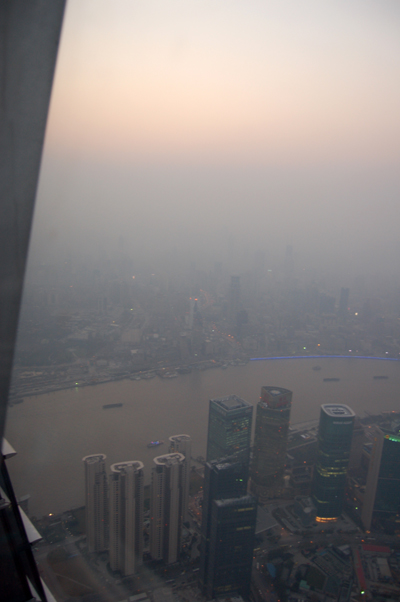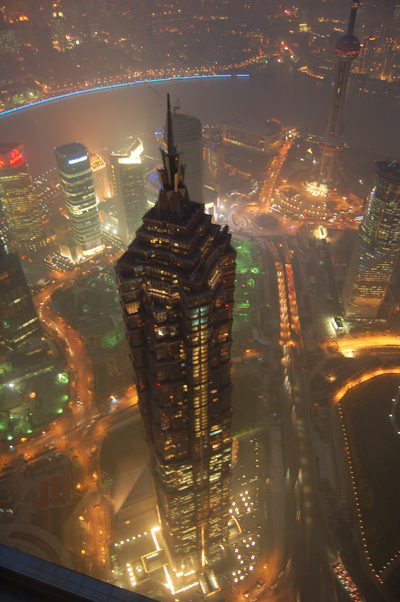 Everything about the Hyatt oozed class, every texture, lighting, decoration, wall hanging, and sculpture. I'd be tempted to call it a Japanese minimalist aesthetic, and Jutta noticed some of the same concrete-treated wall panels that first caught her eye when we visited the Mori Art Museum at the top of the Mori Tower in the Roppongi district of Tokyo last February (also built, as you may have surmised, by Mori Building).
We headed up to the 100 Century Bar, which boasts a fantastic booze selection, zillions of single malt scotches, and a handful of small batch Kentucky bourbons. (Just hearing the wine list described to me was intimidating enough; I didn't venture a peek.) No Knob Creek, but I enjoyed a tasty double Maker's Mark, neat, for 120 RMB. Not exactly within my sabbatical budget, but it was my birthday (kinda) and Jutta was treating. The bar is connected to a classy-looking restaurant of the same name, and we'd love to come back for dinner. We had a peek at the chefs in passing; the whole restaurant is very open, with all manner of wonderful smells wafting by. Maybe next year.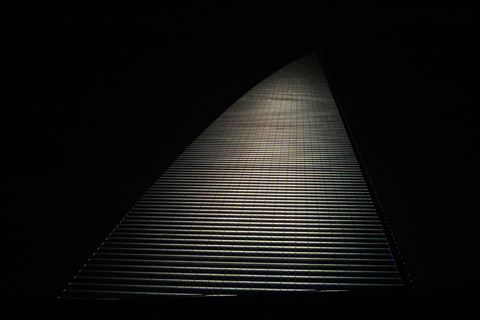 In all, an awesome gift. Thanks to my girl for this journey into adventure!