As many of you, my faithful readers and spambots, already know, I moved out of my Shanghai apartment last December, and since then I've been leading a nomadic existence as an international art hobo, first in the US, then in Kenya, back in Shanghai and Suzhou for a bit, and most recently in Germany. I originally expected that at the end of my sojourns I would ultimately find a new flat in Shanghai, and so I carefully packed away every duvet, cocktail shaker, and gaming console. Circumstances have since conspired, however, such that my next "permanent address" (this phrase always makes me giggle) will be in scenic Somerville, MA, USA, a place I've never visited, but about which I hear wonderful things. (No, I am not being deported, though I won't let that stop me from relentlessly plugging my artwork that was confiscated by the Chinese government earlier this year.)
But in the immortal words of Big Boi, "Greyhound don't float on water." Experience has taught me that when you make a big move, you have your choice of three options for losing money: lose money by shipping your junk, lose money by storing your junk indefinitely (e.g., to date, the upwards of five grand for storing I don't even remember what, some old Duran Duran records and a djembe, I think, in Seattle), or lose money by giving your junk away at a small fraction of what you paid for it. Dear friends and spambots, I have chosen the third option. To wit…
Ben Houge's 35th Annual "New Year, New Address" Fire Sale
I am selling the following items at the following rock bottom prices. I'm attempting to sell things as bundles, to try to get rid of as much stuff as quickly as possible. Prices are negotiable, everything must go!
Oven: 500 RMB
Was over 1000 RMB new. I'd been holding this for some dufus who, two weeks after he told me he'd pick it up, called to say he didn't want it after all. So if you're one of the several other folks who inquired, feel free to inquire again; it's still available! Relatively sizeable for a standalone, tabletop unit, big enough for roasting chickens and ducks (sequentially) or Beef Wellington, but doesn't take up too much space, also handy for bruschetta, etc.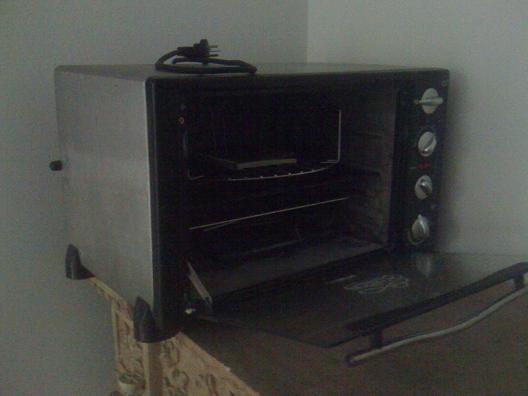 Box o' DVD's: 300 RMB
It's a medium sized box, mostly full of DVD's in absolutely no order. Over six years of Shanghai DVD hoarding has resulted in a substantial collection. The catch: it's all or nothing; if you want 'em, you gotta buy the whole box. I don't know what all's in there, but it skews a bit towards European and Chinese "art films." That means you take the Antonioni and Bergman along with the Die Hard and Rambo. The Police Story pentalogy and Infernal Affairs trilogy are included, plus I think both Hulk films, House of Flying Daggers (x2, I think), Curse of the Golden Flower, you get the idea… All cinema, no TV series. Act now, and I'll throw in Monty Python's Flying Circus!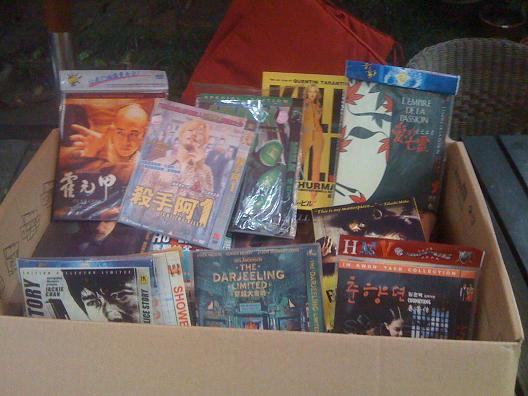 1000 Watt Step Down Voltage Converter (220V to 110V): 250 RMB
Bought this, works fine, except 1000 watts was insufficient for my vast array of US synthesizers and music gear!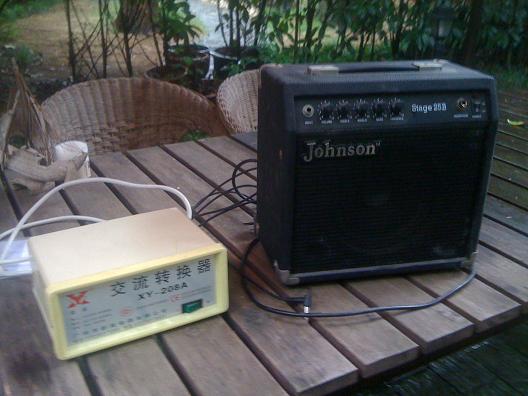 TV Stand: 200 RMB
Sleek, small, but sturdy, glass and metal, supported a 50" TV (not included) for the past four years, ably and with aplomb. Two open shelves underneath used to house a big amp/receiver, an Xbox 360, an Xbox, a PS2, and a Game Cube (not included).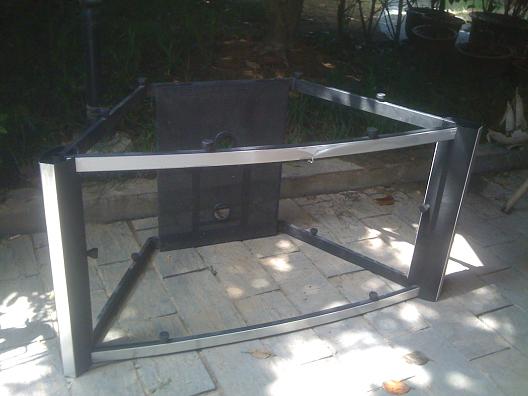 One Big Black Bookshelf: 200 RMB
Classic square design, 3 shelves, pretty darned convenient.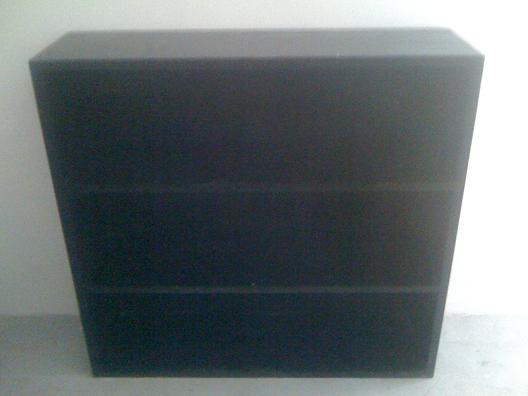 Two Big Black Tables: 100 RMB each
Before I met Jutta, I also tried my hand at furniture design: I had these custom made for my studio equipment (who knows when I'll ever set that all up again, sigh) about five years ago, still in pretty good shape. Very simple design, very versatile, somewhat idiosyncratic design (long and narrow) and a little bit low, designed to be ergonomic for typing and/or playing a keyboard (i.e., elbows at 90 degrees, no awkward wrist bending).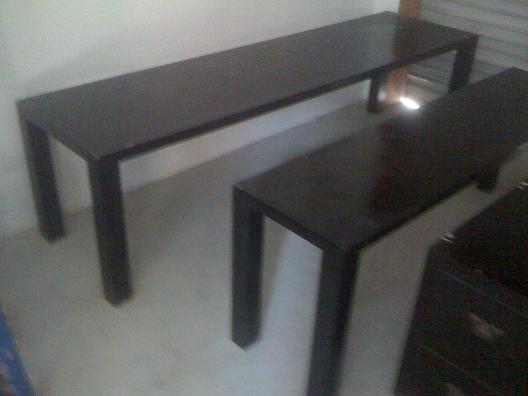 Black, Wooden, Two-Drawer File Cabinet: 100 RMB
Also my original design. The drawers have runners along the inside, fits standard Ikea hanging folders. The ornate brass-ish handle on the lower drawer has come off, but that's easily repaired!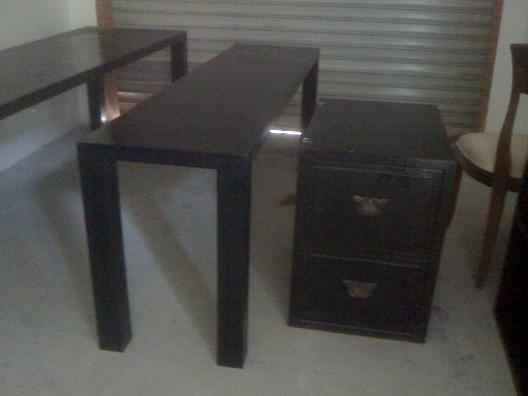 White Hanging Drawer Thing: 120 RMB
This was Jutta's, so you know it's classy. It's like got these suspended cloth drawer things, six of them, arranged vertically, about a meter and a half tall, lots of storage taking up relatively little floor space. On wheels! Kinda like this, but with six drawers instead of four, and already assembled!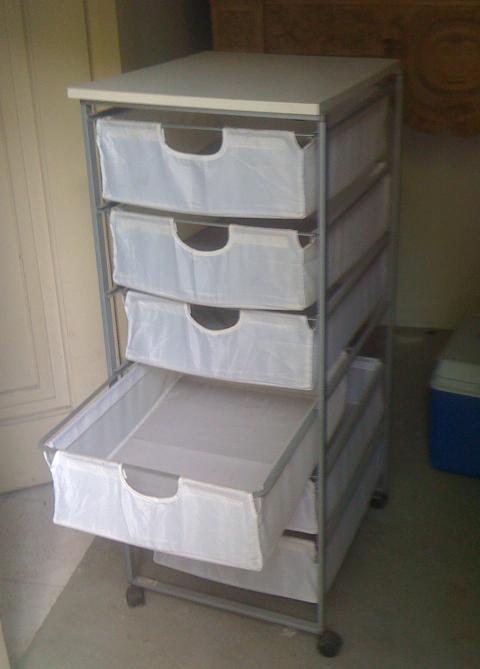 PS2 + Xbox: 1200 RMB SOLD!
If you want only the Xbox, we can talk, but if you only want the PS2, sorry, chump, you gotta buy both! That's the deal! Comes with 2 controllers for each and a handful of games (more for Xbox than PS2, including Crimson Skies, Splinter Cell: Chaos Theory, and Jade Empire), and 2 Sing Star mics (for the PS2)! The PS2 has a rare and exquisite metallic light blue finish, and the Xbox is some kind of limited edition crystal something or other (i.e., clear case).
Two Squash Rackets and Balls: 200 RMB SOLD!
Nice ones, from Decathlon, barely used (like 3x), to my chagrin.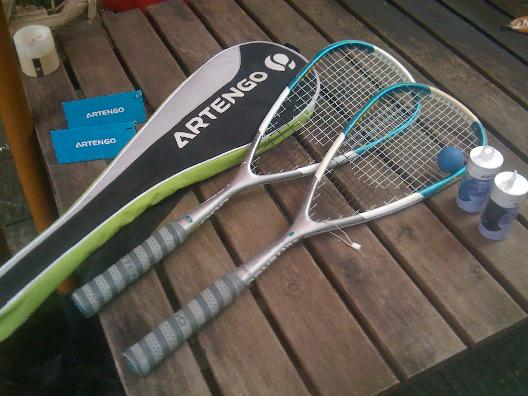 Johnson Amp: 50 RMB SOLD!
Small and super cheap, but perfect if you're a beginner guitarist or maybe into chip bending.
Dish Bundle: 100 RMB SOLD!
Big plates, little plates, some bowls, mostly of Ikea provenance.
Glassware Bundle: 100 RMB SOLD!
Water glasses, some odd wine glasses, a bunch of martini glasses, some mugs, a cocktail shaker and strainer.
Cutlery Bundle: 100 RMB SOLD!
Two full sets of cutlery, in fact, including chopsticks and cutting boards and a handy little tray in which to store it all.
Toaster 50 RMB SOLD!
It is green.
Rice Cooker: 50 RMB SOLD!
It cooks rice. Might have two of these, actually.
And I would be a poor salesperson (or a much more successful artist than I am) if I neglected to remind you that I still have an ample supply of my own CD's available for sale: Radiospace (40 RMB) and 3 Heart-Shaped Cookies (20 RMB), plus my new one, Chingachgook(s) (50 RMB, come on, I made them by hand!). Tell you what: if you buy something, I'll give you 3 Heart-Shaped Cookies for free!
I have lots of high quality digital art prints for sale as well, the fruits of my art hobo year! Check out Study for Insomnia, Transportation Is Getting a New Look, Shanghai Traces, and 29 Giraffes. You can talk to me or to the galleries that have presented these works; contact me, and I'll point you in the right direction.
Please forward this list to friends!
P.S. Don't worry about me not having a PS2 or Xbox anymore; I've got another set in storage in Seattle. (Um, why?)
P.P.S. I just saw that Wikipedia defines "fire sale" as "the sale of goods at extremely discounted prices, typically when the seller faces bankruptcy or other impending distress." Apt indeed.