My newest video piece, Shanghai Traces, is just finishing its 7+ week run at OV Gallery in Shanghai.
It was part of the Make Over show, curated by OV's Rebecca Catching as a response to the remarkable face lift that Shanghai has been undergoing for many months in anticipation of hosting the World Expo this year. Construction has been even more madcap than usual, with new subway lines being built, streets being repaved, and housing blocks being repainted several lanes deep (typically dingy bricks painted brick red, with the gaps between them painted caulk white). The Shanghai apartment I vacated last December was 23 floors up, more or less just across the river from the manic construction at the Expo grounds, and the dust that accumulated was amazing. I was considering bottling it and selling it, like Mount St. Helens ash.
Unfortunately, I managed to miss the entire Make Over show, as I was traveling first in the USA, then in Kenya (more on that later), but it seems to have been pretty well received; I'll try to get some press up here soon. For those who, like me, were unable to check it out in person, here's a sample rendering of my piece:
It's a real-time, algorithmic (or, if you prefer, generative) video running continuously in Jitter on a computer screen in the gallery, which means that this video represents a unique configuration of images that will never occur again. I find the topic particularly well-suited to the medium of real-time video, as this is the way people move through a city, constantly coming and going; you never know who you're going to bump into on the sidewalk. It's a never ending process. The same thing's happening in the video: images fall in endless variation, their traces mingle, and then they disappear.
Here's the blurb I wrote for the show catalogue:
Perhaps to a greater extent than most cities, many of Shanghai's residents are just passing through. From the poorest migrant worker to the flushest CEO, people come from all over seeking opportunity, adventure, and fortune. Shanghai Traces is a meditation on the manner in which these passing characters leave their mark on the city. The tumbling images are cobbled together algorithmically in real-time, mirroring the interactions of the city's inhabitants in ever-changing patterns and configurations. Some stay, many move on, but every life leaves a trace, however fleeting.
My video ran as a companion piece to furniture designer Jutta Friedrichs's sculpture Paved Landscape. She conducted a series of interviews with street vendors who are being evicted from the city center during the Expo as part of the city's beautification plan, and brought home an assortment of their brightly colored wares. She photographed each item for me to incorporate into my video, and then she encased them in resin and set the resin in a concrete shell with a plant inset. Here's a photo: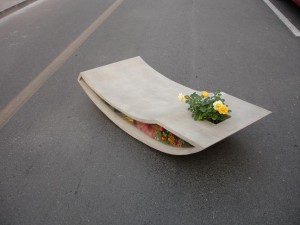 She also compiled a book describing the project and collecting the interviews she conducted. (Contrary to what That's Shanghai reported, that part of the project was hers, not mine.)
Shanghai Traces exemplifies a lot of the ideas I've been using in my audio work, in videogames as well as installations. The computer is selecting parameters to keep things unpredictable, but items aren't falling completely randomly; rather, you can notice that certain parts of the screen develop their own rhythms, sometimes speeding up or slowing down. There's a list with a range of values for each item; you'll notice that some items never change color, or that some items tend to be consistently bigger than others.
In addition to the video itself, I also made some limited edition, hi-res prints (88.9 cm x 66.7 cm), captured from the video and printed on archival paper, which are available for purchase from OV Gallery. They make excellent gifts. Here are two examples: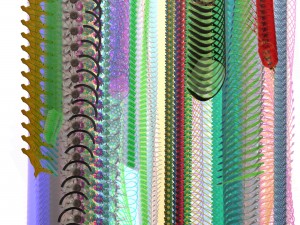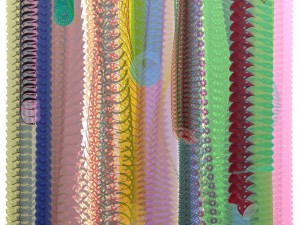 See some more on my Flickr feed!
The piece was originally conceived as a video only piece; no sound. I think in this silent form it works very well in a gallery setting, especially in a group show. After certain past experiences, I've gotten very picky about sound in galleries where other pieces are present. Nonetheless, when I started thinking about posting the video online, I decided to add an audio component, so folks wouldn't waste time wondering what was wrong with the sound instead of just watching. So I implemented a simple idea I've been wanting to play with for a long time: from a stream of speech, little excerpts are plucked out and kind of frozen in time, suspended and fading out. In this case the stream of speech is a continuous babble of fragments chosen statistically from recordings of the interviews Jutta conducted. There are 30 layers of this behavior going on at once, creating a nice, ambient din. I like the way the delay time of the little frozen fragments matches the rate at which the vendor objects are falling down the screen. Further, the frozen bits sometimes take on a mechanical quality, evoking the jackhammers that have been enthusiastically tearing up the streets as part of the city's renewal.
Like any good project, this one leaves me with lots of ideas for further work. I love the density of this piece, but after this experience I'm really curious to do some smaller scale studies, to really get into details of maybe just pairs of objects, and to finely hone the combinations of color and movement (which was kind of the opposite of the objective here). It would also be fun to contrast different types of behavior as part of a larger piece, perhaps spread across multiple video screens.
Big thanks to Rebecca for instigating this exhibition and inviting Jutta and I to participate! Thanks also to Jutta for being a sounding board for ideas, and for helping with the source photographs and audio!