Circumstances conspired to land me in Hong Kong from September 28 through October 5, and I enjoyed a remarkably fun and eventful visit.
The night before I left Shanghai, I had dinner with Junky (from Torturing Nurse), Li Jianhong 李剑鸿, and Zbigniew Karkowski, who had just performed a very loud, very sparsely attended set at the 0093 rehearsal space a block from my apartment. Karkowski commented that in his often outspoken opinion, Hong Kong was overtaking mainland China as a hub for creativity activity, at least in the sonic arts. So it was a good time for me to go and make some assessments of my own.
My friend Nana Seo Eun-A had been encouraging me to come down to visit for a while. She works for Videotage, the 23-year-old Hong Kong-based new media center, but she always seems to be anywhere there's cool stuff going on in Asian art. I met her in Beijing last April, when my and Chen Hangfeng's 陈航峰 Kaleidoscope installation was up at the Today Art Museum (coinciding with the China International Gallery Exposition, just up the road), and she stopped by my workspace on a recent visit to Shanghai for the SH Contemporary. When I told her I might be swinging through Hong Kong, she encouraged me to extend my visit long enough to check out the beginning of the October Contemporary festival (October 2-31, 2009). Lots of other events were going on to coincide with the festival, too, so it was a great time to be in town. Nana has her finger on the pulse; she seems to know everyone and everything that's going on in the arts, the result of a simple, sincere love for art, artists, and creativity that I truly admire.
Among her many welcoming gestures, when I sent an email to Nana asking about budget accommodation in Hong Kong, she wrote back almost immediately saying I had a reservation at ACO Air in Wan Chai (super centrally located on Hong Kong Island). ACO stands for Art and Culture Outreach, and their mission encompasses an affordable, short-term living space for visiting artists on the fourteenth floor of the Foo Tak Building (which also houses a number of arts organizations and artist studios, including those of Samson Young and João Vasco, about whom I will write more shortly), in addition to a wonderful bookstore and reading room on the first floor. As they would like it to be known, the operation of ACO 藝鴶 is largely supported by the Dawei Charitable Foundation Limited 達微慈善基金有限公司, and I would like to extend my heartiest thanks to them, and to their gracious manager Kobe, for supporting my arts investigation in Hong Kong; it was a fantastic place to stay, clean, central, with a nice view, and lots of opportunities to bump into other creative folks..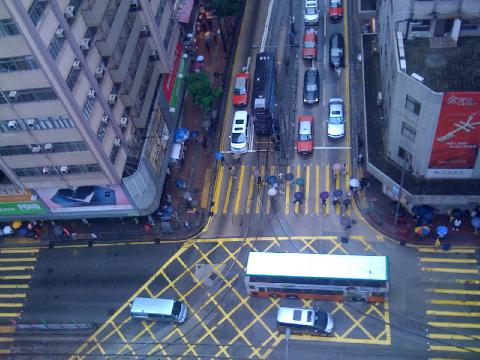 Monday
This was my second trip to Hong Kong; the first trip was exactly four years earlier, also during China's national holiday. It felt familiar in a lot of regards. Getting from the airport to ACO was super convenient on the Airport Express and subway. Everywhere I looked, the obsession with cleanliness, especially in the swine flu era, was in full effect. Last time I visited, I was impressed with the orderliness of people queueing up to get on or off the subway; this time that impression was significantly less pronounced. Coming from ultraflat Shanghai, the vistas of mountain and ocean that would sneak up on me between buildings were a continual delight.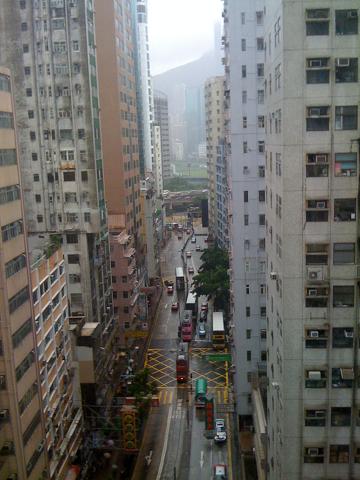 After Kobe got me settled in at ACO, I ventured out into the typhoon warning to meet up with Nana and her boyfriend Emmanuele (who goes by his old tagger name, Mine [pronounced Mee-nay]) for a fantastic vegetarian Indian dinner in Kowloon, at a little place called Branlo, I think. As I scribbled furious notes, the two of them gave me a very thorough itinerary of all the shows and galleries and openings and performances I was required to check out while I was in town.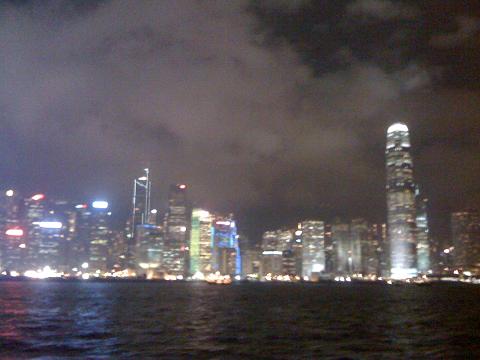 Tuesday
Heading out on Tuesday, an old maxim was again validated; when looking for a restaurant, find the longest line and get in it! Fantastic barbecue pork with rice on Fleming, between Lockhart and Hennessy.
We had made plans for me to swing by Videotage on Tuesday afternoon, so I thought I'd stop by Osage Gallery, whose main branch is also on the Kowloon side, on the way there. When Nana told me about Nipan Oranniwesna's City of Ghost installation, a sprawling city map rendered in baby powder, it didn't sound like much, but when I walked into the space and caught sight of the work, I think I gasped audibly at the size, detail, and ephemerality of the undertaking. Also on view were a photo series called Hong Kong Intervenion by mainland artists Sun Yuan 孙原 and Peng Yu 彭禹 on the city's large Filipino population, and Singaporean artist Cheo Chai-Hiang's 蒋才雄 Story of Money installation, consisting of luxury suitcases containing Chinese characters in which the "bei 贝" radicals (etymologically indicating "money," or literally, "cowry") were replaced by actual cowries, a kind of clever comment on the deep roots of contemporary Chinese consumer culture.
In the elevator on the way down, I chatted with Wilson Kwan, who works for Osage, and handed him a Radiospace CD, which sparked a conversation about the gallery's upcoming (last) intervention show (Oct 10-Nov 29), part of October Contemporary, featuring the work of Samson Young and Kingsley Ng, "two of Hong Kong's emerging generation of tech-savvy multi-disciplinarians." In addition to the gallery show, on the 17th Samson Young will be leading Urban Palimpsest: A Twilight Sound-Walk, a tour through the gallery's Kwun Tong neighborhood, augmented by portable electronics. Sounds super cool; wish I was in town for that.
From Osage, I proceeded to get hopelessly lost in Kowloon. I thought I'd be able to find my way to Videotage using public transportation, too vain a world traveler to hail a cab. First I went two stops on the subway before I got Nana's message that the only way to get there was a to take a bus, then it took another 45 minutes to find the right bus stop, then I went the wrong way on the bus (all the way to the terminus), until someone motioned for me to get on another bus, which randomly turned off its engine at another bus stop, at which point I was motioned into another bus with a different number, which never stopped at the stop I was looking for…I eventually got out and hailed a cab anyway. Nana latter laughed when I told her where I'd been, saying I'd managed to completely traverse Kowloon from east to west.
Anyway, I finally found Videotage, nestled into the Cattle Depot Artist Village, alongside 1a Space, On and On Theater, and other arts organizations. They didn't have an exhibit up at the moment, but I got a presentation on the history of Videotage from Nana and her colleague Hilda Chan. They're preparing an upcoming show called 20/20, which pairs work by artists currently in their 20's with artists who were working at Videotage when it was founded over 20 years ago. Nana's also planning a big event called Night Light Graffiti for the closing of October Contemporary on October 31. And just three days ago, they hosted Zbigniew Karkowski, Dickson Dee, and Sin:Ned on their Staticizer Tour, which I'm sad I had to miss, as I was already back in Shanghai. I was impressed by their clever Videotage business cards, cut at different intervals from those at which they were printed, so each one is unique!
My getting lost put us a bit behind schedule, so Nana and I had to rush off back to Wan Chai for a very tasty Cantonese seafood dinner with Ellen Pau and Alvis Choi, colleagues from Videotage who are also involved in the upcoming Microwave Festival of new media art this November. We had a fascinating discussion comparing the Hong Kong and Shanghai art landscapes, and as we were talking about art apps for iPhones, the topic of granular synthesis came up, which is about as good an invitation as I can think of for me to present some of my work. I happened to have my laptop handy, so I pulled out the EZGranulator app I had developed in Max/MSP a while ago as a demo for colleagues at Ubisoft, and also showed a bunch of my giraffe images, which I think of as a kind of visual granular synthesis.
Wednesday
Wednesday morning I set out for the Hong Kong Arts Center, a quick walk from ACO. Nana had recommended the show at the Goethe Institut on the 14th floor, which documents with photographs, transcribed interviews, and architectural renderings the illegal, temporary shelters that have been built on the roofs of dilapidated buildings in some of Hong Kong's poorer neighborhoods, one of which happens to be across the street from Videotage. It was an interesting show, and while there I poked my head into their library, a minor treasure trove of German culture. I took the opportunity to get acquainted with Stockhausen's Zyklus for solo percussion (1959) and took in the view of the Victoria Harbor land reclamation project (which I have often used as a metaphor for how I've sought to structure my daily schedule). In reading about the composer, I noticed that Stockhausen also had a policy of providing all of his own equipment at shows to ensure quality, further reinforcing a principle I've learned from experience.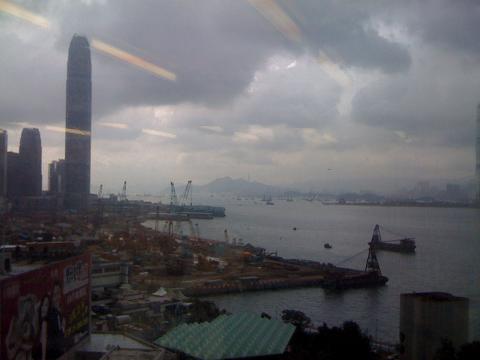 From there I went downstairs to the Pau Gallery (no relation to Ellen) on the 4th floor. The show Cities of Desire, ostensibly a dialog between artists working in Viennese and Hong Kong, struck me as a bit scruffy and haphazard (Artforum liked it better), but it provided a chance to hear some of Cedric Maridet's beautiful ambisonic sound work, which folks had been telling me I needed to check out.
It had been raining off and on since my arrival in Hong Kong, but on Tuesday the floodgates were truly loosed. My original plan had been to check out a bunch of galleries Nana had recommended in the afternoon, but I was sopping after a mere dash to the nearest covered walkway from the Hong Kong Art Center. I spent some time watching the rain and traffic (which throughout my trip continuously brought to mind Tarkovsky's Solaris; only after I got back did research reveal the driving scenes were shot in Tokyo, not Hong Kong), deciding whether to venture to the nearest subway stop or the nearest pub, and eventually decided to head back to the dry Goethe Institut library, where I checked out Wolfgang Rihm's Die Hamletmaschine, a pretty wacky piece of music theater that is probably not best served by an audio recording, especially without an accompanying translation.
On top of the weather, my phone was out of wack, so I was unable to reach Nana, but I thought we had made plans to hear a performance at the Hong Kong Cultural Center (on the Kowloon side of the harbor) featuring Alok Leung, the sound artist/musician and Lona Records founder who's long been a Facebook friend, but whom I'd never met in person, as part of a show called Architecture is Discourse with Music (I'm leaving out the gratuitous ellipses). So I made it through the rain to the ferry and caught the show, and only realized later that the plan had actually been to catch the same show the following night. The program featured three artists—KWC, Alok Leung, and Aenon Loo—in audiovisual laptop performances, followed by a Power Point presentation by mainland Chinese architect Liu Jiakun 刘家琨.
In fact, there was no discourse between architecture and music whatsoever. A generous reading of the laptop artists' performances would suggest a sensitivity to the structural issues of architecture, and the videos contained images of architecture, but the architect himself made no mention of music, and in fact at no point did the musicians and architect even share the stage. Mr. Liu's presentation was interesting for the most part, until he ended by showing a long, ridiculously self-aggrandizing video documentary of the memorial he designed and financed for Sichuan earthquake victim Hu Huishan 胡慧姗. I'm not interested in anyone who has to show a video of a bereft woman bowing down to him to reinforce his benevolence.
Afterwards I had a chance to chat very briefly with the musicians as they were packing up their stuff, but the talk had gone on quite long, and they understandably seemed to be in a bit of a hurry to leave.
And the Hong Kong Cultural Center has free government wi-fi! Thanks, government!
Thursday
So I thought that on Thursday I would head out early and try to catch some of the galleries that I missed the day before. Of course, I knew it was the Chinese National Holiday, but I figured that for galleries that would be a good day to catch people who were off work and about town (it seems Hong Kong only took the one day off, as opposed to the week or more in mainland China). So I took the subway to Sheung Wan, two stops down from where I was staying (so convenient!) and walked through the stalls of exotic Chinese medicinal ingredients to Art Hub Asia, where I had to present identification and sign in before being allowed up to the 11th floor to discover that they were indeed closed for the holiday. The same was true of Tang Contemporary downstairs and Parasite across the street and Amelia Johnson Contemporary and Art Statements down the road. I gave up before trying Gallery Exit; Aenon Loo had told me the night before he'd be there, but I assumed he had forgotten about the holiday. Turns out he probably was there after all, since he runs the place. Whoops!
At least the Man Mo 文武 Temple was open, just around the corner, so I popped in for a look, although even that felt a bit like a failure, as it is currently undergoing renovation.
So I gave up on galleries and set out for the ferry station, wandering down a stretch of the Mid-Levels escalator, which serves as a gathering point for the city's Filipina population on holidays, a lively and convivial atmosphere (and the subject of Cedric Maridet's sound installation Filipina Heterotopia that I had just seen at Pau Gallery the day before).
Once on the Kowloon side, I headed to HMV for a happy hour or two of CD shopping. It's really hard to get new music in China. Most CD's that get official release here are pop garbage, and you can only get local underground stuff at shows for the most part. In my flush Ubisoft days, I used to order a lot of CD's from Amazon, but I can't really justify the cost of that anymore. And I'm a lousy pirate. So, despite HMV's abysmal classical/jazz collection (they share a room, along with country and easy listening), I seized the chance to pick up the new Jim O'Rourke CD, La Roux, the Beatles' remastered Rubber Soul, Flaming Lips' At War with the Mystics in 5.1 (since their 5.1 Yoshimi was so excellently mixed) and two old Pet Shop Boys albums (2 for 1 sale, and good reference for my recent synth-pop productions).
I was supposed to meet Nana at a housewarming party for the new Shanghai Street Artspace, but I was a bit early, so I walked from HMV north through Kowloon Park, and actually way farther than I needed to go on Shanghai Street. I stopped at a place called I Love Cake and bought mooncake molds and heart-shaped cookie cutters, then found a bar in a mall celebrating Belgian beer week with Kronenbourg on tap (let's not quibble), where I could rest my weary feet and start making my way through the liner notes of my recent purchases.
At the appointed time, I headed back down to Shanghai Street Artspace. It wasn't an exhibition, just an open house. As I understand it, there had been a call for people to submit proposals for the space, and the winners invited all the other applicants over to have a discussion about what they envisioned for the place as a community art hub. Gotta say, I didn't get much out of it, as the discussion was in Cantonese, but one friendly guy named Jasper pulled me aside and filled me in. Things livened up a bit after Nana arrived, and some of us started playing ping pong. Later I spilled some kind of lychee gelatin on the purse of someone I later identified as Phoebe Wong from Asia Art Archive. Sorry again!
From there Nana took me by Kubrick Bookstore Café, an amazing store for books and DVD's and film soundtracks, but I only had a quick chance to peek inside (and to inquire whether they had the soundtrack for L'Odeur de la papaya verte, and to strike out yet again), before heading out to dinner with some of Nana's friends, including the artist Nadim Abbas, who's in a band with Alok called A Roller Control and was one of the artists included in the recent Louis Vuitton show at the Hong Kong Museum of Art.
I actually wasn't planning on checking out the Architecture Is Discourse with Music show again, since it was the same line up as the night before, but when we left the restaurant, the streets were all cordoned off for the National Day fireworks over the harbor (on my previous trip to Hong Kong I had watched the fireworks from the nearby 28th floor restaurant Hutong, which I've just discovered has a super annoying web page), so only be explaining that we were on our way to the show could we get through. I wouldn't have been able to see the fireworks or even get to the ferry, so I just stuck with the group, which turned out to be a good move, because afterwards folks were more relaxed, and we all repaired to a bar called Phonograph for beer and conversation. I got to chat with Alok at length, and also with Nana and Mine and lots of other folks. (The non-discourse this time was with Beijing architect Zhu Xiaodi 朱小地, who showed an awful lot of pictures of some luxury bar complex he had designed, certainly swank and easy on the eyes, but representative of a kind of lulling, complacency-inducing architectural riff on traditional Chinese forms that I view somewhat suspectly.)
Friday
I scheduled lunch on Friday with Edwin Lo, another Facebook friend whom I'd never met in person, sound artist and recent graduate of the City University of Hong Kong's School of Creative Media. (You can read an interview with French musician Yannick Dauby that he did for the Sound Pocket website, which I stumbled upon rather at random; can't seem to link to it directly, so happy exploring!) Nana joined us, too. Edwin suggested a beef curry place not far from ACO that was ridiculously tasty, in a kind of Hong Kong food court, but where everything was handmade, on the third floor of a building into which I would otherwise never have ventured. So tasty!
We had a good chat about sound in Hong Kong, and planned an amble over to nearby White Noise Records, a Hong Kong institution I had visited on my list trip through town, still going strong. But we got there too early; on Fridays they only open at two. So we parted ways, and Edwin slipped me a 3 inch CD he'd done called "In The Memory Of…," released on the Little Sound label, a slow, elegiac montage of field recordings, quite nice.
On my way back to Sheung Wan, amid all the Chinese medicine shops, I stopped at one of these funky little herbal tea stands for some 夏枯草, labeled "Prunella Vulgaris" in English. No idea what that is, but it was sufficiently cool and refreshing. Then, finally on the third attempt, I had some success on my Hong Kong gallery crawl.
I spent over an hour at the Asia Art Archive, and I could have spent much longer. Like the Goethe Institut, it's a place I could see myself visiting often if I lived in Hong Kong. My friend Amy Wood, who works there, was out of town, but her colleague Clara Cheung gave me a comprehensive tour of the facility. I also bumped into Phoebe , to whom I apologized again for spilling that lychee goop on her bag. Their collection runs a little slim on the sonic art front, but they're open tp submissions, so feel free to send 'em stuff! I did a search for Yan Jun 颜峻 and up popped an event called Around from earlier this year, organized by Yang Yeung 楊陽, Sound Pocket founder and another person people had been telling me I should meet; they had a catalog from the show in the collection, so I looked it up and read all about it. I found out I'm also in the database as a collaborator with Yan Jun at last year's eArts Festival, and before I left I gave them a Radiospace CD, so now I'm in there twice! Do your own search here, there's lot of fun stuff.
In fact, Parasite, Tang Contemporary, and Art Statements were all closed to prepare new shows, but I got to talk with folks briefly at the first two places. (In fact, the same was true of Parasite four years ago when I tried to visit; strike two!) I had peeked in the window at the Art Statements show earlier to see some of the controversial logo graffiti pieces that caused a furor around the time of the Louis Vuitton show at the Hong Kong Museum of Art, but they were closed to set up a new show by Danish artist Troels Wörsel.
Gotta say, I was a bit bored at Amelia Johnson Gallery; I'm really not much for those kind of personal family history unearthed as artistic narrative kinds of series you see a lot, and the title of Dinu Li's The Mother of All Journeys can only be taken as a bad pun. Some pretty photos, though.
Kwan Sheung Chi's 關尚智 show No Matter. Try Again. Fail Again. at Gallery Exit cracked me up, though. Not all of the pieces were well executed, and the typical problems of presenting video in a gallery context were all manifest, but sometimes there's a fine line behind between a good conceptual artist and someone who's just fun to have at a party. One of the pieces documented him and his friends performing a drinking game/endurance test during one of Hong Kong's annual art walk events, and another piece showed him trying to recreate the performance by drinking the same amount of alcohol in the same time frame alone in his studio. I've been arguing for a while that intoxication is an underutilized parameter in performance.
After leaving, I stopped at a nearby crossroads, trying to get my bearings, and Phoebe Wong once again materialized and pointed me towards the Input/Output Gallery, just up the hill from Hong Kong's notorious Lan Kwai Fong bar street (with an opportunity to grab a schwarma at the same schwarma stand where I grabbed one four years ago, yum!). Nana had emphasized this event, the official kick off of the October Contemporary, and it was probably the best party of the week. (Input/Output is owned by Teddy Leow, who currently has an interesting piece—from a technology perspective, at least—at MOCA Shanghai, a flashing LED panel that creates creepy afterimages in your retina when you look away.) Most notably, I got to meet my newest two best friends, Rachel and Paul, who are so cool, smart, friendly, and funny. Rachel is the manager of Input/Output, and it turns out she had actually seen my performance at Art+Shanghai when my 路口 installation opened. I enjoyed talking with Jessica, who also works at the gallery, since she doesn't shy from asking very direct and difficult questions about why artists are doing what they're doing. Then when someone introduced Cedric Marinet, and after hearing his installations and having people tell me all week that I needed to meet him, I was so excited that I greeted him with a big hug, to which he responded, "Who are you?" We talked for a long time about our respective practices and background and the exigencies of sound art, a very sharp and thoughtful fellow. I also spoke at length with Yang Yeung of Sound Pocket (who organized the aforementioned show with Yan Jun); she was interested in my thoughts on what made a good artists' residency program, and I gave her an earful. Ellen Pau was there, too, and lots of other people…an excellent time.
I talked at length with all three artists in the show: Evan Roth, Desmond Leung, and Cho Yiu Cheng. Desmond had a really beautiful digital animation showing on two panels, abstract, but evoking flowing water, which reminded me a lot of Cindy Ng's video that's running next to my sound installation at Art+ Shanghai right now, although his is in color and hers is in black and white (which I think goes better with the theme of the Art+ show, as well as with my piece). Cho Yiu Cheng's piece was a little more conceptual, images of peoples' faces with bright lights being flashed in their eyes, blown up to fill a whole wall, and with an accompanying flashbulb soundtrack, should you decide to don headphones. Both pieces loop, but they're dramatically flat to the point that the loops are pretty inconspicuous; you could still come or go at any point and get a taste of the work, which for me is an important criterion of video installation.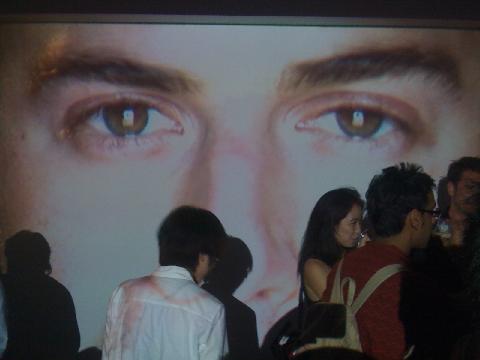 Evan Roth's work probably had the most resonance for me, as someone working in the digital domain. He's written a program to digitally sample people's writing on a glass screen, then store these gestures in a database and visualize them using custom software on a screen in the gallery. He was inspired by watching graffiti artists working, the choreography of their writing styles, and he makes overt connections between this practice and Chinese calligraphy. He's committed to keeping this an open source project, and I was struck by the countless possibilities contained in his database of digital tags; it's wide open for all kinds of mapping in the visual and aural domains. I'm also grateful to him for turning me on to the Open Frameworks libraries for C++, which I plan to dive into soon.
Check out Evan's video of the opening, into which a certain hatted, bearded man features prominently.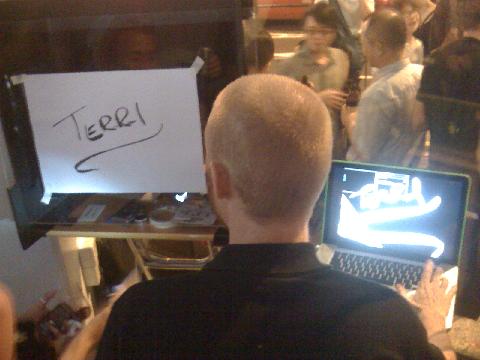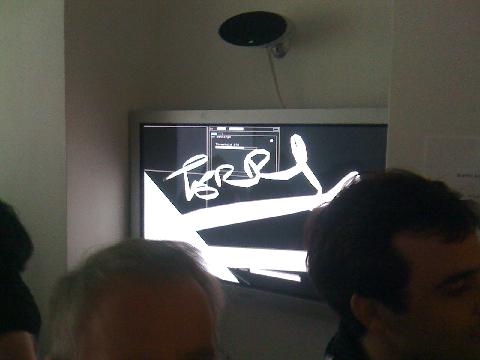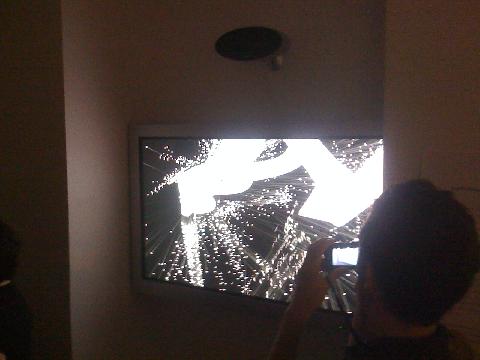 When the party started to wind down, a large group of artists, arts organization workers, and hangers on like me ventured out for Thai food. They were selling bunny ears in Lan Kwai Fong, since the Mid-Autumn Festival was nearly upon us, and I bought a pair. After dinner, we went to a homely little joint called Club 71, which was overrun by art folks. Here I made the acquaintance of Adrian Wong (another artist featured in the Louis Vuitton show), and we chatted for a good long while.
Afterwards, Rachel and Paul and I headed out for another schwarma, before finally calling it a night. An awesome evening!
Saturday
I asked Kobe at ACO if she could recommend a nearby place for dim sum, and she came through with the Lung Moon Restaurant 龙门大酒楼 near the Wan Chai subway stop. I arranged to meet a pal from my Ubisoft days, Kevin Lau, who had contracted for Ubisoft on EndWar to do a whole ton video work for marketing and PR purposes, so he had spent quite a bit of time in Shanghai. He brought a friend of his, Simon, and I invited my neighbor from ACO, Matt Gano, a fellow Seattleite, who was in town teaching poetry at the Hong Kong Creative School. Matt's also an accomplished slam poet and hip hop artist; listen to some of his stuff!
We had a lovely meal, and then Simon suggested heading over to Page One books in Times Square, not far from ACO, where I think I managed to bore them all completely looking for the perfect present to bring back to Jutta in Shanghai. From there, Kevin and Simon had to leave, but Matt and I pressed on to White Noise Records.
Heading up the stairs to White Noise, I noticed that the guy walking in front of us had long hair, rock star pants, and what looked like a silver case for music equipment, so I wondered if there was going to be some kind of in-store performance. When we got in, I started to introduce myself to the proprietor, Gary (with whom I had chatted four years earlier, but who had no reason to remember me), but when I said my name, the musician-looking guy, who had been bending over his case, stood up and said, "Oh, Ben's a busy guy in Shanghai," and I recognized him as Christiaan Virant, half of the Beijing-based experimental duo FM3, best known for their wildly successful Buddha Machines. He was in town working on the getting the third Buddha Machine, a collaboration with Throbbing Gristle (dubbed "Gristleism"), produced, and I got to hear the only prototype in existence. He says the original Buddha Machine alone has sold about 80,000 units, pretty impressive.
We chatted for about half an hour about his work, the Buddha Machines, Chinese factories, generative music, iPhone applications (there's a Buddha Machine for iPhone, if you don't have it already!) and such.
After he left I chatted with Gary a bit more, and I walked out of there with Christopher Willits' Surf Boundaries (truly excellent), a compilation of Moondog's years in Germany (alternately mesmerizing and dully noodling, as you'd expect), and Nosaj Thing (quite dull; btw, "Jason" spelled backwards is supposed to be pronounced "no such," which I don't think works at all).
I dropped off my loot at ACO, then took the ferry over to the Hong Kong Cultural Center for one last Architecture/Discourse/Music show, this time featuring Portuguese transplant João Vasco (see some of his video stuff here), whom I had met 2 years prior when he performed at Li Jianhong's 2Pi Festival in Hangzhou (which is unfortunately not being held again this year, as Li Jianhong confirmed over dinner the night before I left for Hong Kong). João performed a mesmerizing sneak preview of an upcoming audiovisual installation he's working on, comprised of slow moving videos constructed of time-lapse images of Hong Kong cityscapes, with lush, slow-moving audio generated from the images. I'm really curious to hear those segments in the context of an installation, where the different segments can interact and interpenetrate in a non-linear context. This performance had an increased clarity and focus over what I remember from his 2007 performance; it's really thrilling to be able to observe an artist's evolution. On the same bill were Sin:Ned and Pun Tak Shu 潘德恕, who also delivered riveting sets. The architect this time was Zhang Lei 张雷 from Nanjing, who showed some interesting photos, but he had an incredibly annoying tendency to replace the simplest words of his Mandarin lecture with their English equivalents; to give just one example, "gui 贵" is one of the first words most foreigners learn, for its usefulness in bargaining, but I guess he felt "expensive" sounded more luxurious, since it has more syllables, or maybe because it's foreign and exotic (by contrast, he did not replace "pianyi 便宜" with "cheap").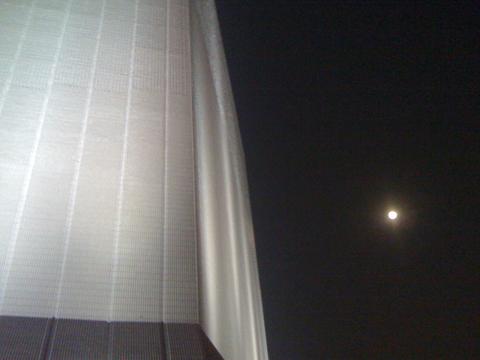 After the show, a large group of us went out for a fantastic Indian meal at Chungking Mansions nearby, and then it was realized that in fact there was a party on the roof of the Foo Tak building (where ACO is located, and where João also has his studio), so we all headed over. It wasn't just an ordinary Saturday night; it was the Mid-Autumn Festival, the second most important traditional festival on the Chinese calendar (hmm, wouldn't that make a great subject for a song?), which people traditionally celebrate by eating mooncakes and holding moon appreciation sessions. We had a fantastic view of the moon and surrounding buildings, as well as a glimpse of the harbor, and folks had brought lanterns, mooncakes, and beer. Later in the evening, I played my newly finished song "Mid-Autumn Moon" on a small portable sound system someone had brought. There was great conversation with Nana and other new friends late into the night, and João and I had a particularly interesting exchange on the intersection of music and architecture, perhaps the first real discourse of the festival. His perspective (and his original proposal for his performance that night, which the organizers vetoed) was to set up some kind of feedback system to probe the acoustics of the room, for him the truest sonic equivalent of architecture, whereas I was more interested in abstract forms and the non-linear potential suggested by a space, which is only activated when a person actually navigates it.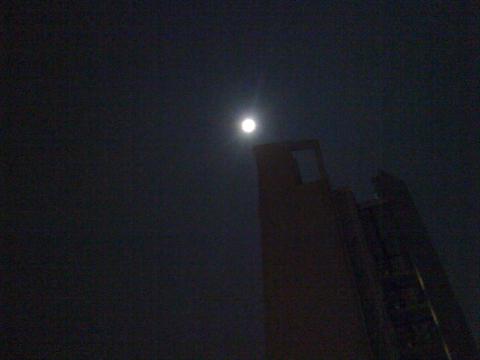 All week everyone had been telling me that I have to meet Samson Young (the guy with the upcoming Osage show), and on the roof of the Foo Tak building, I finally had my chance, since his studio is also in the building. He's quite a sharp and accomplished fellow, with an impressive resume of interesting projects and performances (and a PhD from Princeton, where he got to work with Paul Lansky, whose music I've long dug). He shared with me about his RPG Triptych to be featured at the upcoming Osage show, which uses an off the shelf RPG game engine (I forget which) to present what sounds like a humorously surreal virtual experience. If I understood correctly, there will be three independent games running in the gallery, non-networked, but if everyone happens to be in the same room at the same time, the music is composed to that the layers will fit together in a harmonious way.
Sunday
After such a late Mid-Autumn Festival celebration, it took a bit of effort, but I made it back to Input/Output for a 1pm panel discussion with the artists (I arrived nearer to 2pm), a fairly open Q&A on new media art. In the lively discussion, I found an improved way to phrase one of my longstanding observations about video installation: if you author a piece to have a beginning, middle, and end, you need to also present it in such a way that the audience walking into the gallery experiences it as beginning, middle, and end. If someone walks in halfway through, your middle just became their beginning, and the dramatic trajectory of the piece is compromised. I'll pontificate further on this point in the future.
After a lively discussion, I set off with Rachel & Paul to meet Nana at another opening, way up in Kowloon, but first we stopped off for a plein air meal of fresh seafood on Temple St. The opening was at C&G gallery, which several people mentioned has been particularly successful in cultivating a community hub atmosphere. The show was called "No Money for Art vs. No Time for Art," featuring stop-motion animation. Several artists, including Clara Cheung, whom I had met earlier at Asia Art Archive, had just returned from an artist residency in Puck, Poland, and they were sharing about their experience, and also sharing some fancy Polish vodka and cookies. I chatted at length with a new friend named John from the British Council, and we put a fair dent in the vodka supply.
From there we headed over to see Chopsticks, just around the corner, which is in fact where I was supposed to be the afternoon the typhoon rained me in at the Goethe Institut. Chopsticks is spearheaded by Patricia Choi (who had been at the Foo Tak moon appreciation session and was also present at C&G), and her concept is that the gallery actually has no permanent location, setting up events wherever there happens to be some unused space at the time. The current show was a modest photography exhibit with some nice images; Patricia opened the space just for us and phoned the artists, who popped over to say hello. She also plans to open a hostel somewhere in the neighborhood.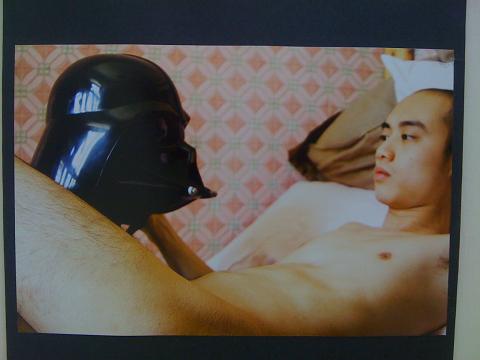 From there we finally made it over to see the new space where Robin Peckham, who joined the party back at C&G, has been working. He and I met last April in Beijing, back when he was working for Boers Li Gallery, and in the intervening months he's relocated to Hong Kong to set up the Society for Experimental Cultural Production. We'd been trying to find a good time for me to see his new space all week, and we finally made it happen the day before my departure. For now, he shares space with some active musicians, and it's hard to imagine a better hang out spot, with old tiles and a big balcony evoking some idealized "old Hong Kong" fantasy. Fill that place up with interesting folks and beer, and you've got one heck of a party! It'll be very interesting to see where a man of Robin's capabilities takes this endeavor in the months ahead.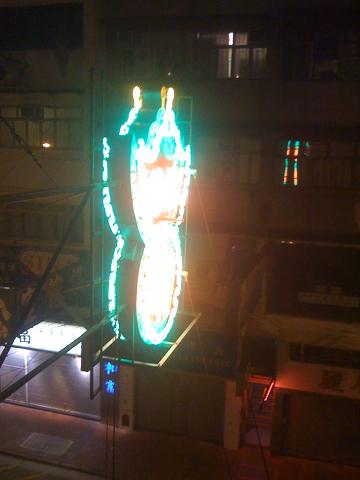 Monday
On my last day in town, there was just one man left to see: bassist extraordinaire Peter Scherr. Peter's been based in Hong Kong for a long time, and we've met up several times in Shanghai over the years. Perhaps the first time was when he brought his group Headache (including NYC musicians Jim Black, Seattle-transplant Briggan Krauss, and Peter's brother Tony on guitar) to the now defunct Number Five on the Bund…back in early 2006, I think? Since then I've seen him come through town with a number of groups, all top notch, and every time I threaten to come down to Hong Kong to pay him a visit. So after packing up and checking out of ACO, I hopped on the MTR and set out for relatively remote Sai Kung way up north in the New Territories.
Once I got off the bus at the terminus I could see why someone would want to settle down here. The bus stop was right next to a beautiful bay, full of boats and islands and sunshine, verdant mountains all around. Peter picked me up in his car, and we headed back to his house, with a quick stop at another nearby bay to take in the breathtaking view.
I pride myself on my CD collection (I don't enjoy listening to music on my computer or iPhone), with probably about 600 disks I brought over from the US, and easily another 600 that I've accumulated in the five years since, but Peter's collection puts me to shame. Since so much of this stuff is so hard to find, he let me rip a bunch of it to my computer, some Eyvind Kang, some Marc Ribot, some Stockhausen, some Ornette Coleman, and a bunch of the newly remastered Beatles mono recordings from the new boxed set (the only way to get 'em). In exchange I offered what I had on me (like Jim O'Rourke and, um, Pet Shop Boys), and a wide swath of my own tunes.
He showed me his amazing studio, as breathtaking as the surrounding scenery. I took some iPhone snaps of his studio, but they don't do it justice the way his own webpage does. I plunked around on his beautiful Yamaha C3 piano for a bit; he picked up his bass, and we noodled over some simple changes, and once again I wished I spent more time developing my improv chops. It was a lovely afternoon just shooting the musical breeze, talking about music we like and our various projects, before he drove me around the backside of the peninsula, providing another perspective on the beautiful Hong Kong landscape, to the airport, where he happened to be picking up another musician friend that same night.
I stopped at the Heineken Bar in Terminal 2, where they had Murphy's Irish Stout on tap and, I thought, quite passable jalapeno poppers (one of the rarest foods in Asia). The airport also offered free wi-fi (thanks, government!).
My whirlwind visit left me with a very favorable impression of Hong Kong. There seem to be lots of people doing really interesting, creative things. The food was great, and every morning when I walked out of my building, the glimpses of mountains and ocean exhilarated me. I was there during an eventful week, but there's much more on the horizon that I would have liked to stick around for: Dickson Dee's concert with Zbigniew Karkowski at Videotage a few days ago, a performance at Input/Output on October 14th, Samson and Kingsley's installation at Osage, a concert by friends Yao Dajuin 姚大均 and Xu Cheng 徐程 on October 17-18 (another part of the architecture festival), the rest of the October Contemporary and Nana's closing Night Light Graffiti event, and the Microwave festival that's kicking off in November. There seems to be much more institutional support for the arts than on the Chinese mainland, and most of the people I talked to in the arts had a higher level of arts education (perhaps a by-product of the high concentration of universities in Hong Kong); the flip side that was mentioned to me by a couple of artists I spoke to was a kind of superficiality or pretention that kept relationships from going deep and inhibits healthy criticism.
Perhaps there's a bit of the "grass is always greener" phenomenon at work, but one thing this visit reminded me is that Hong Kong's not all that far away. I hope to be back soon! Thanks again, Nana!