[Note: my virtual garage sale is still going on! Don't miss out on these amazing bargains!]
For probably three or four years now I've had the idea of a European tour in the back of my head. During my time in Shanghai, I've met lots of folks from Europe who are active in some kind of new and/or underground music, many of whom have performed at one of Torturing Nurse's NOIShanghai shows, sometimes sharing a bill with me. So for a while I'd been thinking of calling them up and trying to line up some gigs out west. After learning that my trumpet playing pal Justin Sebastian, with whom I performed several times around Shanghai earlier this year, was moving back to Düsseldorf in August, which happened to be the same time that Jutta was already planning to be visiting home in Cologne, the stars suddenly aligned, and I started sending emails.
From probably thirty or more inquiries regarding performance opportunities, the answer I received was a resounding, "The entire continent of Europe heads off on vacation in August, and only a total knucklehead would try to organize a tour at this time." Lots of folks would be out of town, lots of regular experimental music series, sometimes even entire music venues, would be closed for the month, and even if we could get a gig somewhere, folks wouldn't come, and they certainly wouldn't pay a cover charge.
Nonetheless, our knuckleheadedness prevailed, and by working a few connections and reducing our scope a bit, we were able to put together a respectable if modest five date itinerary. This also provided a fine opportunity to execute a plan Justin and I had been discussing for a while: to release a CD of our live recording from the Mini Midi Festival organized by Yan Jun 颜峻 in Shanghai last May. I went a different route with this CD than for my last two; rather than having someone print me 1000 of them, I printed a small batch myself, cut them with a razor, and glued them together by hand, for which painstaking effort I hope you will not begrudge me 50 RMB. If you want one, drop me a line!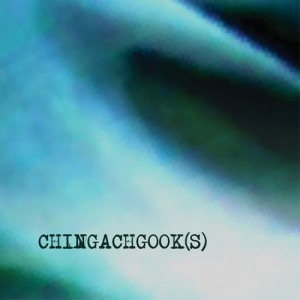 I got to Cologne before Justin, so I had a few days to acclimate. Jutta was already there at her parents' place. Within four hours of my arrival, I got a Krakauer sausage, a Kölsch beer, and a new pair of Birkenstocks: I had been Germanized!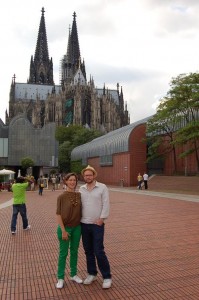 While getting my Germany legs, we checked out some obligatory cultural sights. First stop was the Museum Ludwig for a show of Roy Lichtenstein's art history riffs that are more amusing than great, plus a great Wade Guyton installation, a nice little Malevich show (interesting to me, since he was an inspiration for Transportation Is Getting a New Look), and the rich permanent collection. Right next door is the amazing Cologne Cathedral with its new Gerhard Richter stained glass window (which rather unimaginatively resembles a bunch of pixilated noise, but fits in pretty well). We caught a great organ recital there one night by Sophie-Véronique Cauchefer-Choplin, who is the #2 organist at Saint Sulpice in Paris, including Widor's toccata and an amazing improvisation on Lobe den Herren. There was also a really silly Mondrian show at the Museum of Applied Art (one painting, then lots of T-shirts, bags, that Studio Line from L'Oréal hair gel from the early 90's, and a bunch of toys and junk, as though anything ever done with primary colors is a Mondrian tribute).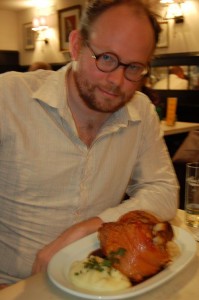 Jutta's dad helped me get better acquainted with one of the fair city's finest achievements: Kölsch beer. Legend has it that when President Clinton was visiting Cologne, he pulled a JFK; instead of announcing himself to be a jelly donut, he proclaimed, "Ich bin ein Kölsch," or, "I am a beer." There are twenty-some Kölsch brewed in the region, available only in a roughly 30 km radius around Cologne, not extending to Düsseldorf. Kölsch tends to be clear and snappy, maltier and less yeasty than what you find down the road in Bavaria. Every bar is affiliated with one of the breweries, and the traditional serving method is in tall, cylindrical 2dl glasses from surly waitstaff who won't ask if you need another one; they just keep them coming until you cover your glass with your coaster. My gateway Kölsch on this visit was a Gaffel, and from there it quickly becomes a blur…favorites were Früh and Reissdorf (Jutta's favorite), with Gilden and Sion also near the top of the list, and we also tried Päffgen, Peters, Mühlen, and Pfaffen. Everyone advised me not to bother with Dom. Another wondrous beer from the region, though not a Kölsch, is Eifeler Landbier. As I have often stated, one of the great hardships of living in China is lack of access to great beer (although the situation has ameliorated dramatically over the past six years), so I must admit that on this trip I exercised no restraint when it came to beer sampling.
I happened to arrive in Germany just at the start of the annual Stockhausen courses in the Cologne suburb of Kürten, Stockhausen's home town, just down the road from where Jutta grew up in Bergisch Gladbach. Of course, Karlheinz Stockhausen died over two years ago (read my eulogy here), but the courses are still going strong, and there are concerts every night, rigorously overseen by the tight-knit group of disciples he left behind. This year's theme was "Learning Without Limits."
I was only able to attend two of the performances (I had my own performances to attend to, after all), but they were utterly fascinating. They focused on his late work, which for twenty-seven years involved in the creation of a massive opera cycle entitled Licht (Light), organized around the seven days of the week. After completing this in 2004, he started a new series entitled Klang (Sound), organized around the twenty-four hours of the day. He completed the first twenty-one hours before he died, and we got to hear hours two (for two harps), four (a theatrical piece for a percussionist, a door, and a little girl), and sixteen (for basset horn and electronic music). This work is much less well known than his revolutionary earlier pieces, so it was a rare treat to hear it performed live by performers closely associated with the composer.
My favorites were "Chuchulainn" ("Monday Scent," Sunday from Light), a brief piece for costumed soprano, synthesizer, and incense, immaculately performed by Barbara Zanichelli and Benjamin Kobler; and the 2nd Hour from Klang, "Joy," for two harpists who also had tricky, interlocking vocal parts (on a Pentecost text) to deploy, an ecstatic, forty minute tour de force performance by Marianne Smit and Ester Kooi. Another highlight was "Intensität" from 1968's Aus den Sieben Tagen, the entire score of which reads as follows:
play single sounds
with such dedication
until you feel the warmth
that radiates from you

play on and sustain it
as long as you can
This was a total about-face from the very tightly organized pieces that precede it in Stockhausen's canon, very much part of the late sixties zeitgeist that begat it. But of course there's a performance practice for this type of music, termed "intuitive music" by Stockhausen, who worked closely with the performers to get the sound and vibe he was aiming for, which informed this performance by the Ensemble für Intuitive Musik Weimar as well, and the results were numinous. Also on the programs we caught were 24 Türin (for door, Japanese rin, and speaker), Mittwoch-Formel (for three percussionists), and the first five of Stockhausen's influential Klavierstücke from 1952/1953.
I had Jutta take my photo in Karlheinz Stockhausen Platz on our way out of town.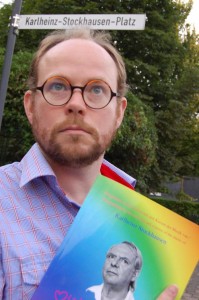 I thought it was a great way to kick off our tour, a kind of benediction from the old master. The theme for next year's courses was announced as "Learning for Eternity;" sign up now!
But hang on, whose concert tour is this, anyway? So Justin arrived in Germany on Wednesday, and we played our first gig on Thursday, August 5, in Düsseldorf. That's Justin's old stomping grounds, so he got us a gig at Salon des Amateurs, a bar connected to the Kunstverein, across the street from the Kunsthalle. This was my first time in Düsseldorf, and I learned that the city is known for its gallery scene and also for its Japanese food, with the largest Japanese population in Europe. Jutta and I got there early, so we poked around a few nearby galleries (including Schuebbe Projects at the recommendation of my pal Martin from Art Labor in Shanghai, where it seems the inadvisability of dropping in on a gallery unannounced and distributing work samples was confirmed [although we did write in advance and attempt to make an appointment]).
We also popped into the Kunsthalle, and I was really blown away by their collection, lots of pieces I'd previously only known from books. They also had a temporary installation by the ubiquitous Olafur Eliasson. The receptionist drew our attention to it from the entryway, where it looked like just a few puffs of smoke, and I thought that perhaps I had encountered my first Eliasson clunker, but no, when viewed it from the window upstairs, it was awesome. This guy's medium really is atmosphere, and the subtle perceptual shifts he affects in the three pieces I've seen in person (at the Walker Art Center in Minneapolis and UCCA in Beijing) are arresting.
We grabbed dinner before the show just around the corner at the fantastic Brauerei Füchschen, where I enjoyed a fine Gekochtes Ochsenfleisch in Meerrettichsauce, and I was schooled in the difference between Düsseldorf's traditional Altbier and Kölsch, Alt tending to be darker, but still incredibly tasty and refreshing.
And the show went great, with an enthusiastic crowd more numerous than my meager expectations, and a lot of Justin's friends came down to show their support! Before we went on, they screened the film Step Across the Border, about guitarist Fred Frith, so it was kind of like he was opening for us. Afterwards we hung around chatting with people until we had to catch the train back to Bergisch Gladbach, a warm and friendly evening that set the tone for the rest of our performances. (More pictures on my Flickr page.)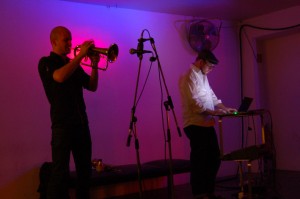 Our second gig was super exclusive: a surprise performance at Jutta's mom's birthday party the following Saturday. During the festivities (organized into three shifts of revelers, in good German form), Jutta casually mentioned to her mom that her friend Justin and his girlfriend Ursula happened to be in the neighborhood, and that she had invited them to pop by for a convivial glass of sekt. Justin's trumpet case accompanied him in undetected, as I surreptitiously plugged my laptop into the living room stereo system. Jutta decided against making any opening remarks; Justin simply began to play the low, muted, opening tones of our piece, and soon we had the room's attention. Some of the guests took the occasion to migrate outside for a smoke, but most remained attentively inside, and Jutta's mother was completely delighted by the surprise gift. How's that for taking experimental trumpet and electronics out of the new music ghetto?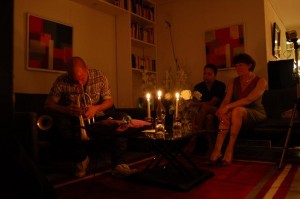 We had Sunday for party cleanup, additional cavorting about Cologne, and the second of our Stockhausen concerts (the final show of the festival, ending with Michael's Farewell, performed by five trumpet players on the roofs of five buildings outside the performance hall). Monday we were off to Berlin for the second leg of our Germany tour.
To be continued…